Forum: Old versions


For older version, like VirtualDJ 7.
---


NOTE: VirtualDJ 7 is not maintained anymore.
Topic: How-To: Output the BPM from VirtualDJ to other software (MIDI-Clock) [Resolume]

Read German Version: http://j.mp/VDJMidiClockGerman

Here is a little guide on how to use the new MIDI-Clock feature in VirtualDJ 8 to take the beat to other software like Resolume.
Important: This feature is only available in version 2059 or higher! Before that version there is no known option to me to do this in VDJ8.
I recommend using the latest version ofcourse because the feautre is new and already got some important bug fixes.

What you will need:
Virtual DJ 8 Build 2059+
LoopBe1 http://nerds.de/en/download.html
Software with MIDI-Clock Input (in my case: Resolume Arena 4.1.8)

LoopBe1 is free and used to simulate a MIDI device which VirtualDJ can send a MIDI-Clock signal to which then can be read by other software.
I don't recommend sending the MIDI-Clock to a controller or a MIDI device which you use to control VirtualDJ because other software is probably not able to access the ports of the device when VirtualDJ is using it. Thats why we need LoopBe.
There is other software like MIDI-Yoke which can carry MIDI signals but are not supported by VirtualDJ as a MIDI-Clock device at the moment.

1. Install LoopBe1
2. Start or restart VirtualDJ
3. Settings -> Controller -> You should see "LoopBe Internal MIDI" in the device list.
Select it, rightclick and choose "Midi Clock Output".
Screenshot:



VirtualDJ will now give the master BPM to LoopBe.
4. Open your software which should recieve the BPM signal or restart it (a re-scan is often not enough!)
5. Go to your MIDI settings and select LoopBe Internal MIDI as the MIDI Clock Input OR aktivate the MIDI Clock Input for LoopBe (e.g. Resolume).
Screenshot Resolume: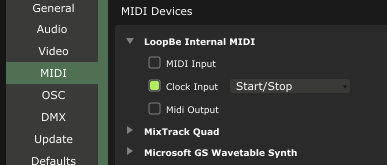 Done! As soon as you have a track running on the master VirtualDJ will send the BPM to your application via LoopBe =D

If you have questions, feel free to ask! I'd really like to help =)

Regards, Daniel
---
geposted Fri 27 Mar 15 @ 8:37 pm

Can you send to a remote computer, like if Im running vdj off of my laptop and resolume off of a media server, how do I connect it?

---
geposted Tue 19 Jan 16 @ 1:36 am

I can say I just used this method to synchronize BPMs from VDJ 8 to MyDMX 3.0 and it works like a charm! Very cool being able to make lights hows that can chase and fade perfectly to the beat of whatever music is currently playing!
---
geposted Mon 15 Jan 18 @ 9:23 pm

Does any one know what to use on my Mac? I'd like to be able to snag that midi clock for lightkey
---
geposted Wed 24 Jan 18 @ 11:21 pm

I have no Mac but i think you must make this so in the Art:
1.)activate the Midiclock Output from VDJ 8 Pro Infinity in Controllersection with rightclick
2)??? but not know a Virtual Midicable in the art (we loop be1 for windows) but for Mac???
3) You must send the Midiclock in Lightkey as Signal in (config)

Hope this help you
sorry for my not so good English

greatings,Dirk
---
geposted Fri 26 Jan 18 @ 8:43 am

vlnjacki wrote :

I have no Mac but i think you must make this so in the Art:
1.)activate the Midiclock Output from VDJ 8 Pro Infinity in Controllersection with rightclick
2)??? but not know a Virtual Midicable in the art (we loop be1 for windows) but for Mac???
3) You must send the Midiclock in Lightkey as Signal in (config)

Hope this help you
sorry for my not so good English

greatings,Dirk




I was able to create a virtual midi port on my mac, but the Lightkey software for mac doesn't see the signal. I'm not convinced that its not the software but unfortunately I have no other way of testing it on another machine, maybe i'll give it a shot on my friends mac.

here's how i made the device on mac

http://www.johanlooijenga.com/tools/12-virtual-ports.html


---
geposted Mon 26 Mar 18 @ 7:05 pm