Add-On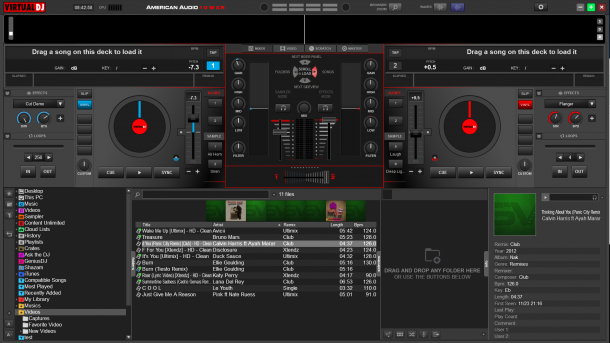 No full screen previews
Downloads this month: 120
Total downloads : 1 568
Popularity: 226
Rating: 4.8

Tailored skin for American Audio 10MXR (installed with VirtualDJ 8 LE)
Date added: Thu 01 Dec 16 @ 6:45 am
Last update: Thu 01 Dec 16 @ 6:46 am
1.0
Comments
Downloads this month: 218
Total downloads : 4 394
Popularity: 532
Rating: 4.7

The famous SilverSleek skin reached it's 3rd edition. Compatible with new VirtualDj 8.2 and pads layout, this is the most versatile skin ever!
SilverSleek3
Pads
Pioneer Style
Pioneer
Scratch Waveforms
Browser Zoom
4 Decks
Date added: Mon 06 Jun 16 @ 1:30 pm
Last update: Wed 06 Jul 16 @ 3:10 pm
3.4
Comments
Downloads this month: 212
Total downloads : 3 631
Popularity: 533
Rating: 4.6

A modified version of the default v8.2 skin that has larger video preview windows, some extra menu options. There is a skin options menu if you click the VirtualDJ logo.
Date added: Wed 13 Jul 16 @ 12:10 am
Last update: Thu 14 Jul 16 @ 12:31 am
1.0
Comments