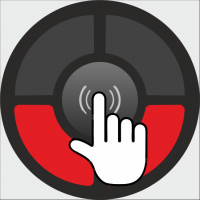 Atomix Productions employee directing Hardware Integration Department.

My name is Babis Rigopoulos and live in sunny Greece with my wife and son. I studied Electrical Engineering at the EMP University of Athens. An amateur dj and i intend to keep it this way. I love music, as we all do, but its hard to find the place to play the music i like. Requests is my nightmare.



Wed 01 Dec 10 @ 1:11 pm
American Audio VMS4
Setup Guide for VirtualDJ Pro 7
A few words about the VMS4
VMS4 is the first midi controller which has a 4 channel "analogue mixer.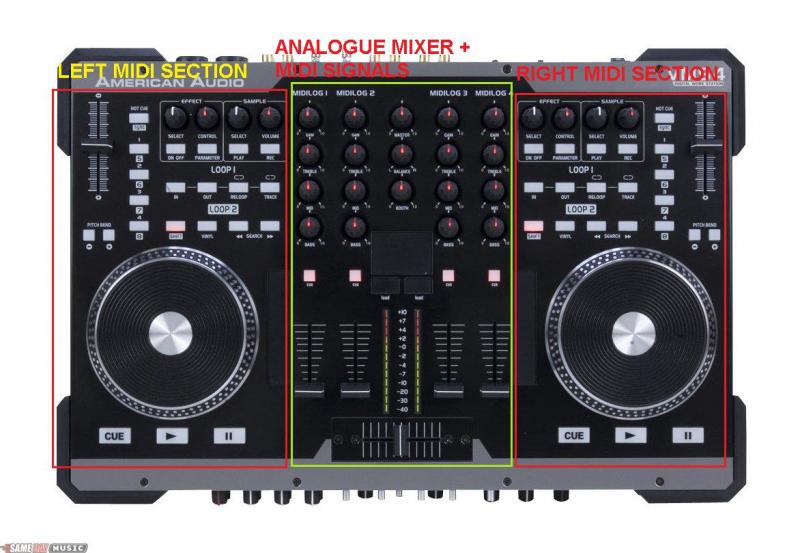 The left and right sections of the VMS4 are pure midi. You can assign them as you wish.
The center part of the VMS4 is actually a pure analogue audio external mixer which also has the ability to send midi signals. It\\\\\\\'s not reccomended to assign virtualdj actions, only fake actions (such as fake_crossfader, fake volume,fake_eq etc). Fake actions move the sliders on the screen but they do not affect the sound of the VMS4. So practically you use the intergrated EQ of the VMS4, and not the EQ of the software. But you will be able to view the eq knobs to move on your screen.
8out mode & 4 out mode
In order your VMS4 to contol the decks of the VirtualDJ software, you have to turn to USB the MIDILOG assign switchers.
- If you want to use all 4 channels of the VMS4
to control 4 decks in VDJ
(4 decks skin) turn all of them to USB and set VMS4 to
8out mode
using the switcher in front.
- If you want the 2 chanels in the middle (MIDILOG 2 & MIDILOG 3) to
control 2 decks of the VirtualDJ
software (2 decks skin) turn to USB just the 2 switchers in the middle, leaving the other 2 (CH1, CH4) to analogue. and set the VMS4 to
4out mode
. In that case you can use CH1 and CH4 as analogue inputs, and you can plug 2 cd players.

Installation
- Install the LE Software including the drivers from the CD which comes with the VMS4
- Update drivers from the AA web page (current ASIO drivers 1.07 PC only)
http://www.adjaudio.com/pdffiles/asio-driver.zip
- Update firmware from the AA web page (current version 3.11)
http://www.adjaudio.com/pdffiles/vms4-firmware311.zip
- Run VirtualDJ Pro 7
-
Audio Setup (Advanced Config)
In case you want VMS4 to control 4 decks in VirtualDJ (with a 4 deck skin) set your Audio Config as followed
8out mode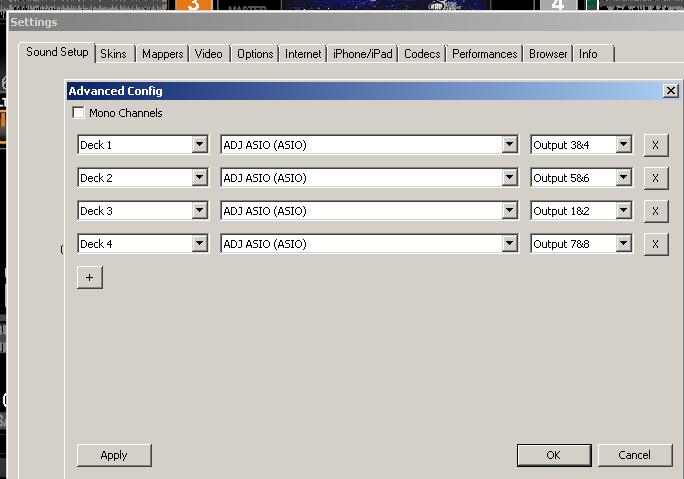 In case you want VVMS4 to control just 2 decks in VirtualDJ (with a 2 deck skin) and leave the other 2 in analogue set your Audio Config as..
4 out mode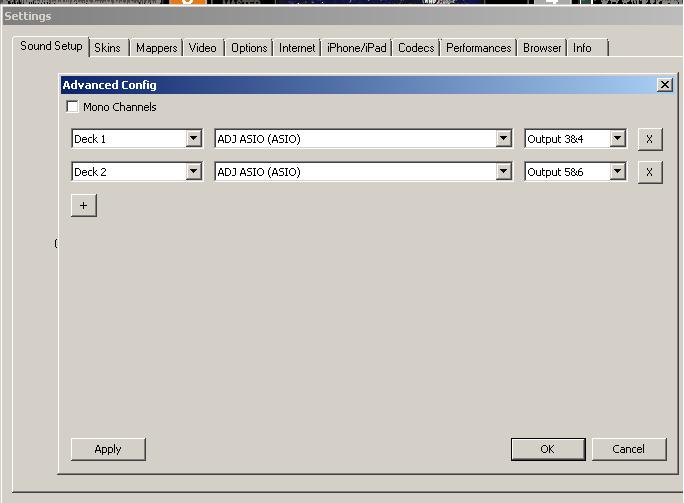 Mapping the VMS4
The AA VMS4 is natively supported from VirtualDJ Pro 7, and you could use it right away.
You may download also an advanced Mapper from here..
http://www.virtualdj.com/addons/12221/American_Audio_VMS4_Pro_Full.html
With this mapper you can swap between deck 1,3 & decks 2,4 using the Pitchbend biuttons. The crossfader is mapped as fake_crossfader & video_crossfader. The swapping buttons (Pitchbends) also assign the audio & video crossfader chanels. You will find a txt intructions file in the mapper with full details on how butons work.
You can also download the American Audio VMS4 Pro Skin ver 2.1 from here
http://www.virtualdj.com/addons/11940/American_Audio_VMS4_Pro.html
and check all the VMS4 features on your screen.
Recording with the VMS4
In order to record your mixes using the Record VirtualDJ feature you have to setup the Advanced Audio Config as followed.
This way your MIC is also recorded.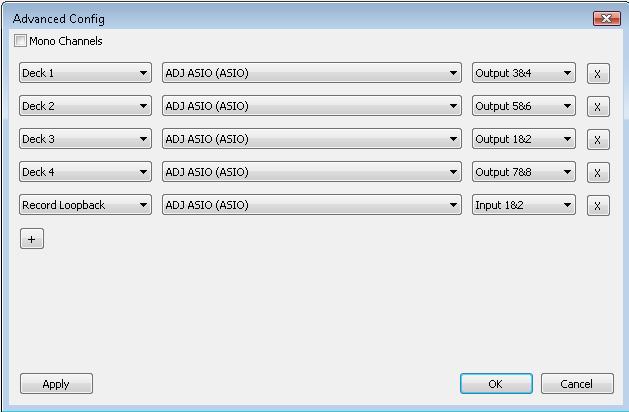 VMS4 + Timecodes
In order to run timecodes you have to turn your VMS4 to 4out mode. This way VMS4 turns to a 4X4 sound card meaning that you will be able to control just 2 VirtualDJ decks.
Plug your timecodes in to linein (midilog) 2 and 3 (the middle ones).Midilogs 1 and 4 can now operate only as analogue sources.
From the front side of the VMS4 turn CH2 and CH3 to USB
VDJ Sound setup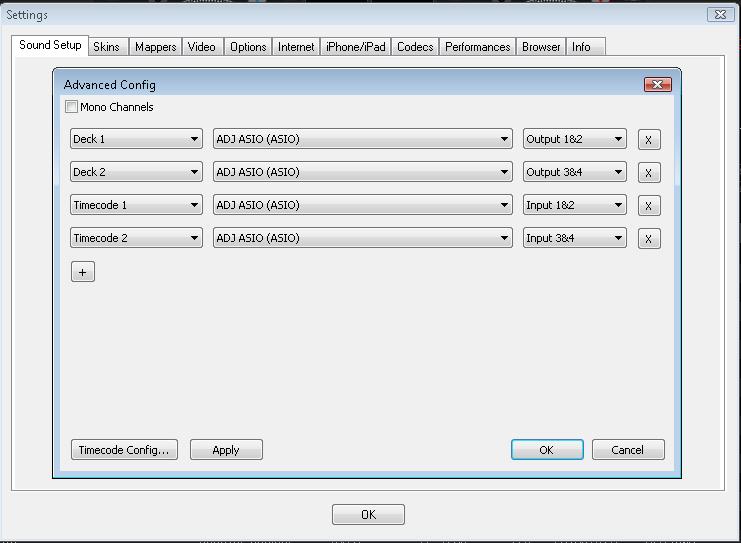 IMPORTANTIf you need to change from 8out to 4 out mode or vice versa before you do this, you have to power off the VMS4. Then make your selection and power the unit back on.
Wed 12 May 10 @ 5:35 pm
My latest skin creation ideal for Turntablists. No mixer. Video support.
Screenshots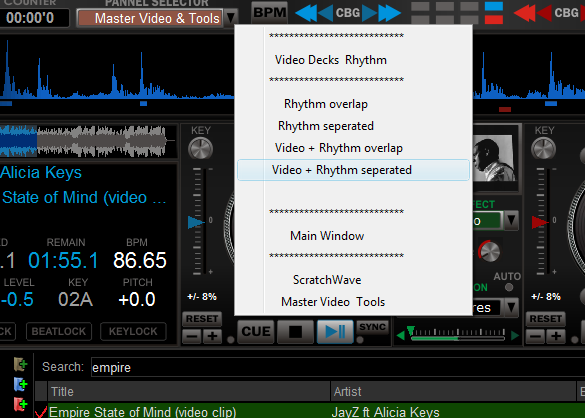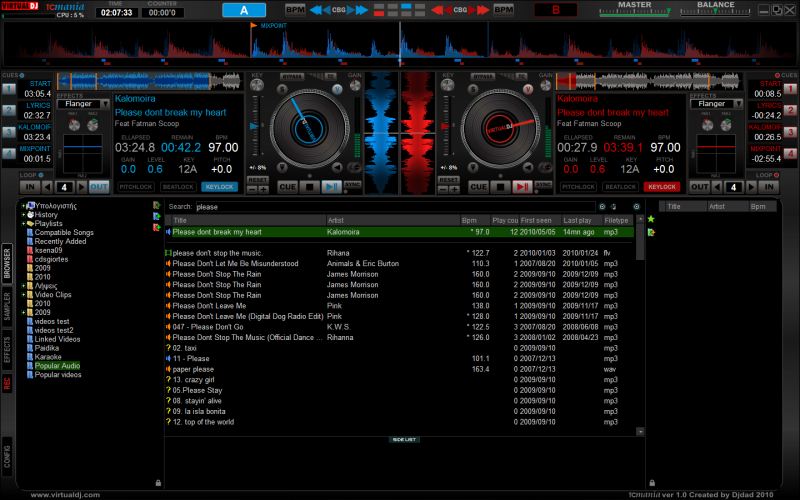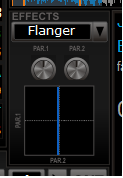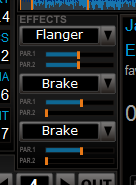 Available resolutions:
wide 16:10 1440X900 1280X800 1920X1200
wide 16:9 1366X768
1280X1024
Download link
http://www.virtualdj.com/addons/11460/TCmania.html
For more informations visit the TCmania Skin topic
http://www.virtualdj.com/forums/128308/Virtual_DJ_Skins/TCmania.html
Dont just download it... use it !!!! Enjoy
Wed 12 May 10 @ 5:25 pm
One of my latest creations for VirtualDJ ver 6.08
All the basic funtions are here, little sqeezed to leave a large browser.
Description:
Really convinient if you use controller and mixer, so all you need is actually the informations.
Available resolutions 1280X800 & 1440X900.
2 different colours (orange & blue)
Update Ver 2.0
---------------------
1. Added Deck Frames selectors
2. 3 different colors for textzones. Choose what you like.
3. New icons for browser
4. Added Video pannels for decks and 3 mixer pannels Suitable for audio and video mixing now.
5. Few color corrections
6. Minor bug fixed
Update ver 3.0
---------------------
1. Dark color version added
2. New resolutions added (1280x1024 & 1366x768)
3. TC Quality indicator added
4. New highlighted Deck Selectors
5. New aluminium round faders for EQ, vol, gain etc
6. Fx and Loops now blink to view better
7. Graphic bugs fixed
8. Some minor corrections
orange version 2.0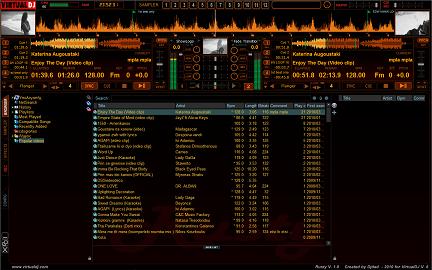 Rusty dark ver 3.0

Rusty blue ver 3.0
Download link
http://www.virtualdj.com/addons/11133/Rusty.html
For more informations visit the Rusty topic
http://www.virtualdj.com/forums/126467/Virtual_DJ_Skins/New_skin_in_progress_Rusty_V_3_0_(Ready_for_download_now).html
Enjoy !
Mon 03 Aug 09 @ 3:30 pm
A very "simple" skin based on a large browser (that is what we need). Compartible with VDJ ver 6.0.1 at 1400X900 & 1280X800.
Available here ..
http://www.virtualdj.com/addons/8815/Acropolis-V.html
You may see the Parthenon (Acropolis) as browser background. It's a symbol for us, the Greek people, and we give our fight so that several marbles of Parthenon may return home, where they belong. The British museum claimed that there was no proper place (museum) in Athens so they keep them safe and well kept. But since May of 2009 Athens has proudly built a brand new Acropolis Museum fully organized and modern with all the facilities, so we are able now to receive what it's our culture belonging. It's not an ethnic voice. It's a culture right.
**Tips for the skin***
a.There is a double pannel (Pitch-Key) pressing those 2 buttons.
b. Press
V
for video pannels (3 of them) and
A
for audio pannels.
c. Right click on the cues to set cues.
d. There is a EQ crossfader section, which you don't usually see neither on skins nor on audio mixers of the market anymore.
e. Balance for decks 1 and 2 are not working because VDJ does not support those actions.
f. Click on the textzones (title, remain, pitch, bpm etc) to change colours.
Soon an update with some missing spots (rec sample, loop sample etc).
Thanks for reading.
DjDad-The Fun Builder
Fri 28 Jul 06 @ 6:03 pm
My new case ...
Laptop
..
TurboX 17" Maestro
Intel DualCore 2,2 Ghz
2 Gb RAM DDR3
HD 200Gb SATA
Nvidia 8600M GS 256 MB
HD
External USB WD 500 Gb
Sound Card
Maya44 USB
Controller
Numark DMC2
Mixer
American Audio Q-2422 Pro
Mobile case 19"
..and of course
VirtualDJ
Ver 5.07
They all run smoothly
some photos ..