Forum: Old versions


For older version, like VirtualDJ 7.
---


NOTE: VirtualDJ 7 is not maintained anymore.
Topic: VDJ does not recognize itunes library

ok - this is getting ridiculous. in the preferences i have show itunes checked but nothing shows up on the sidebar. basically VDJ is not finding my itunes library and all of my songs. this kinda makes it impossible to do anything. i absolutely cannot figure out for the life of me why this started happening all of a sudden. if anyone can help i would really really apprecitate it.
---
geposted Sun 24 Jul 11 @ 1:15 pm

so just for a test i downloaded some other dj software and they had no problem finding my itunes playlists and songs. is there a chance that vdj isnt compatible with the new itunes software or something. i just spend a pretty good amount of money on this and to not be able to play kinda sucks. i know there are some VDJ people that come by here - can you please offer any suggestions. i can put up screen shots or whatever else you might need but something is definitely up. thanks.
---
geposted Mon 25 Jul 11 @ 5:29 pm

still not even an effort by a staff member to try and figure out this issue - awesome!!!!
---
geposted Tue 26 Jul 11 @ 11:05 am

i moved over to your chat support and have been waiting over an hour - are you guys serious? is this what you call support?
---
geposted Tue 26 Jul 11 @ 11:57 am

Maybe it's because you have the limited edition. Buy the Pro.
---
geposted Tue 26 Jul 11 @ 2:12 pm

i actually just have the pro - just never registered it and have no idea where the serial number is anymore.
---
geposted Tue 26 Jul 11 @ 4:35 pm

The iTunes folder in VirtualDJ will only appear and work correctly if your iTunes library is in the default location (See http://support.apple.com/kb/ht1660 )

iTunes libraries in custom locations and/or on external drives are not fully supported at this time. You can try changing the location by right-clicking on the iTunes folder and choosing this option or by using the Registry Tool (Pro users only): http://www.virtualdj.com/addons/2170/Registry_Tool.html - Multiple iTunes profiles are not supported.

Please ensure that you have the most recent version of VirtualDJ installed: http://www.virtualdj.com/download/updates.html

NOTE: If you library is in a custom location or external drive, you can still access the music in it by using the VirtualDJ browser to browse to the drive/folder where the music is located.

Make sure that you have added the music to your search database by browsing to the folder(s) where it is located, right-click (CMD+Click) on the folder and choose Add to search DB.
---
geposted Wed 27 Jul 11 @ 5:09 am

my itunes library was never moved and when i just checked it was in the default location - any other suggestions?
---
geposted Wed 27 Jul 11 @ 10:09 am

Does not seem to be the case here or on any of our test machines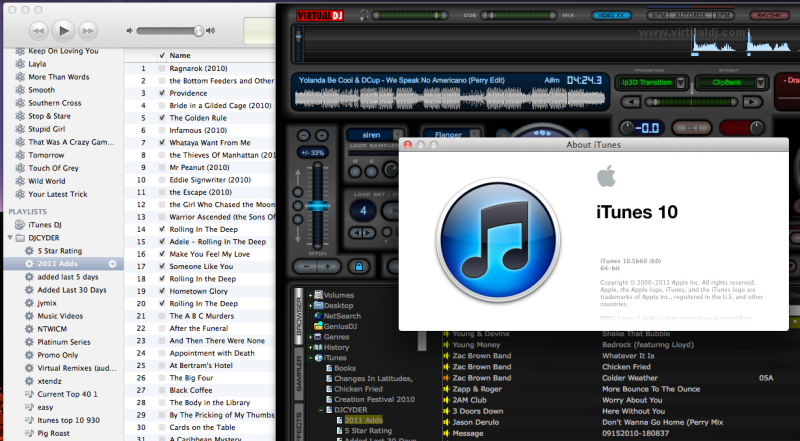 ---
geposted Wed 27 Jul 11 @ 12:26 pm

I'm having the same issues. Really frustrating!! When I updated I just could not see Newer ITunes Playlist that I made, I could see them on ITunes but not on VDJ. All music was fine until I went to organize ITunes library all my music went to m4a format and even when I search for it on VDJ it doesn't find it. I go to old ITunes playlist on VDJ and none of my playlist or crates work.
---
geposted Sun 15 Sep 13 @ 9:04 pm

hi - just got vdj and it's only showing playlists from an old itunes - not the current one that i use - i'm on mac 10.5.8 - any idea how i can't get it to see the playlists i use?
thanks
---
geposted Mon 01 Sep 14 @ 3:21 pm

I can't even browse my iTunes library within Virtual dj. Library is in default location. Where do you even find it within Virtual dj 8?!?!?!?!?!?

There's no options in preferences anywhere to show it.
---
geposted Sun 07 Sep 14 @ 12:24 am


GUYS GUYS GUYS .... hehe ...

This is kind of an old issue that was "fixed" and now seems to have reared its ugly head again.

What **I** did to fix **my** issue was to delete the "Itunes Music Library" file in my iTunes directory and then RENAME my "iTunes Library" file to "iTunes Music Library" and everything is now updated.

That forces iTunes to re-create "iTunes Library" on re-load and re-scans everything.

Try that and lemme know....
---
geposted Wed 10 Sep 14 @ 6:18 pm

Anybody care to give me a call tonight and "walk" me through this??? PLEASE! Having the same frustrating issues with this and could really use a hand.
---
geposted Fri 31 Oct 14 @ 8:48 pm

I am having this same problem. I got a new computer and transferred my iTunes library to my new computer so now VDJ does not recognize my new playlists and the old ones, when i play the tracks get an error message.

I updated VDJ to 7.4.2 but no avail, and I tried to duplicate and rename my iTunes library but I don't know how to do that correctly or how to search for the library in VDJ.


Any help would be appreciated.

Thanks,



---
geposted Mon 17 Nov 14 @ 1:15 am

So does VDJ support iTunes on external drives now?
---
geposted Sat 09 Apr 16 @ 11:10 pm

Just found in system preferences for I tunes a selection box that says allow iTunes to work in other applications.
That created other itune folder that now show the library.
---
geposted Mon 27 Nov 17 @ 4:53 am