Forum: VirtualDJ Skins
Topic: [VDJ8] BlackSheepHD - Page: 1
Dieser Teil des Themas ist veraltet und kann veraltete oder falsche Informationen enthalten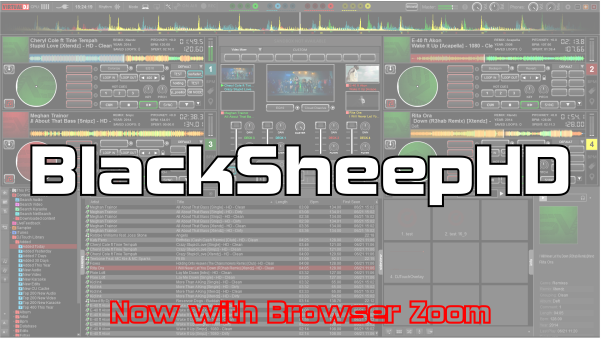 DOWNLOAD HERE

After a break for a few years the old BlackSheep is back and now in high definition.
This was my first V8 skin, and i was learning as i went!! :-)
2 Deck and 4 Deck included in the pack.

2 Deck Skin
6 Views on each Deck:



Standard Layout (default) - large jog wheel, 10 CUSTOM BUTTONS and 2 CUSTOM SLIDERS, Side Panel similar to default skin

Small Video Deck - Same as above without the jog wheel. Adds video and video effects. n.b. the transition one slot and controls master (i will probably remove this in a later version)

Large Video Deck - and i mean LARGE - only room for minimal other controls but does have 8 custom buttons ;-)

Scratch View - identical to standard but replaces large jog with a smaller version and includes scratchwave

Pads View - Does what it says on the tin.

(Sven's) Combi View - at a user request a combination of video and scratch view.



5 Mixer Views:



Standard Audio

Video Mixer

Big Screen Mixer

Scratch Mixer - included timecode options

Pads Mixer - Does what it says on the tin.



The Mixer has a further 9 custom buttons to play with.

Also features:



Quick link navigation bar

Menu to adjust the rhythm options to suit you

BlackSheep quick settings menu - have a play with it!!



Deck Info Bar
Pack with information about the track in tradition with other BlackSheep skins.

Plus Lots Lots More,

As always with my skins, i appreciate your thoughts and comments.
Thanks for looking and downloading!!

Updates:
v 1.1.0 - 22nd June 2014 - Change of Preview image, Added Browser Zoom functionality.
---
geposted Sun 11 May 14 @ 3:14 pm
Hats off to you for this one, excellent work as always! :)
---
geposted Mon 12 May 14 @ 5:46 pm
Yep, def like
nice one
---
geposted Mon 12 May 14 @ 8:27 pm
---
geposted Tue 13 May 14 @ 1:09 am
Very well.
I ask a small modification
VU Meter in Video side is VU Meter MASTER
Not work if it is not still out (Cotrol for Limiter now not )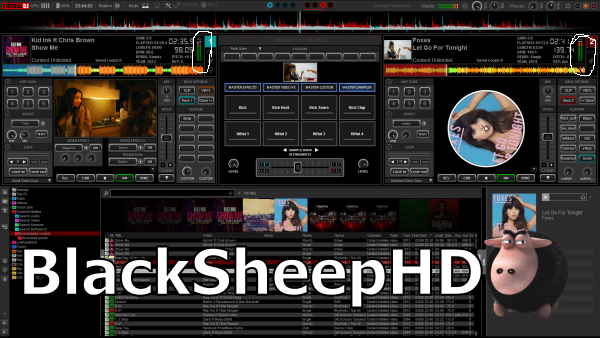 ---
geposted Sat 17 May 14 @ 10:33 am
This is my v8 skin of choice so far - the only minor improvement I'd like to see is a slightly larger CBG, I've toggled all the rhythm wave options and whatever I set it to, the grid is almost invisible. Is there something I could alter in the xml file to make it appear larger?
---
geposted Sat 17 May 14 @ 6:07 pm
this skin is terrible, very very good job!
---
geposted Sat 17 May 14 @ 8:44 pm
Something lost in translation there?
---
geposted Sun 18 May 14 @ 3:33 am
I'm one of those "take forever and read everything there is to be read before upgrading" type people. I've been playing with 8 on a spare computer and so far this looks like the v8 skin that will offer up the most of what I'm looking for.

So...

Is anybody using this out in regular rotation yet and have you hit any snags?
---
geposted Fri 30 May 14 @ 4:53 pm
Here..translate this...the skin its Sick! and the autor its sick for making it...;)
---
geposted Mon 16 Jun 14 @ 2:37 am
THANK YOU for this v8 skin! The LARGE video actually shows the video in a viewable size. Now if I can just get the video bugs in VDJ8 straightened away ... ;-)
---
geposted Tue 17 Jun 14 @ 12:22 pm
A possible small bug I noticed Dan - on the video windows, you click the window to activate the video. On my machine at least, this only works if you select the "big video screen" - in the normal video mix window (master and two previews) clicking the screen has no effect...
---
geposted Tue 17 Jun 14 @ 8:39 pm
---
geposted Tue 17 Jun 14 @ 11:00 pm
My favorite skin, great work. Thanks!
---
geposted Thu 19 Jun 14 @ 3:00 pm
Hi this is a great skin & the one I have chose to use with Virtual 8...
The one thing I would like to kindly ask you & to see if you can at all possible...but can you add a "browser zoom" button, I know there are a few skins already for V8 available that have this option, but I don't want to use their skins, as I prefer yours...
Hope this is possible?
Many thanks
---
geposted Fri 20 Jun 14 @ 9:17 am
Will see what I can do over the weekend ;-)
---
geposted Fri 20 Jun 14 @ 9:20 am
Thanks for the quick reply mate & that would be wonderful, thank you :-)
---
geposted Fri 20 Jun 14 @ 9:36 am
---
geposted Sun 22 Jun 14 @ 9:37 am
I noticed on the update the comments have been removed from showing on the decks.
Is that by design?

---
geposted Sun 22 Jun 14 @ 10:41 am
Still there for me.

2 deck displayed by default.
4 deck toggle between album title and comment.
---
geposted Sun 22 Jun 14 @ 10:44 am