Forum: VirtualDJ Plugins


Questions about plugins development, talks with other developers etc
Topic: Text to Screen Effect

I've been searching, but haven't found an answer so figured I'd throw it out here. When using the Text visualization in the latest version on VDJ, I have a message I want to run every so often but not all night. For example

"Next 90's Dance Party May 12" or other messages like that.

But once I turn text visualization off, when I want to restart it I have to type the message in all over again.

Am I missing something? which is very possible. Or is this just the way it is engineered.

If anyone has any tips let me know.


---
geposted Fri 14 Apr 17 @ 7:38 pm

What about running the sampler with a video of the nights you want to promote, make your promos in a video editor and use the transparency function.
It's basic but should get you through until you find something better, If you need any help give me a shout.
---
geposted Sun 16 Apr 17 @ 12:54 am

You can also use "dj text" that you can find in Inbox of Tellyvisuals.

There is four groups that you can save different text and emojis and easily edit and send each message.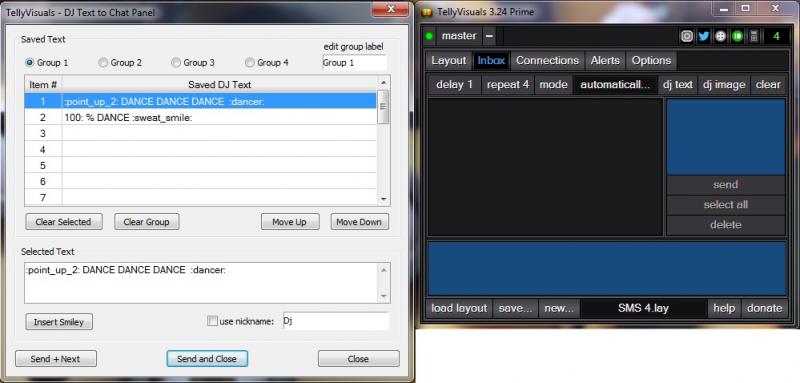 ---
geposted Sun 16 Apr 17 @ 8:19 am

I prefer to make video samples . then put them into the sampler page called adds .. then when i need them I press them and they come on and then i rotate throught the page of samples.
---
geposted Tue 07 Nov 17 @ 5:43 am

I think TV is the best.

If you use other effects in the sampler, the text could disappear behind a new effect you start.

In TV you can edit that its in front/above of all the other things thats showing on the screen.
---
geposted Tue 07 Nov 17 @ 4:42 pm

I saw today that you can take a sample and throw a video effect on it. loco dog has done it.
---
geposted Tue 14 Nov 17 @ 6:42 pm