Forum: Addons


Addons comments

Discussion about Sampler FX
---
Posted Mon 15 May 17 @ 8:47 am

As of Builds 3731, Effects can be applied to Sampler without having to route sampler to any specific deck. This page offers the ability to apply Effects on Sampler using the Pads section of VirtualDJ.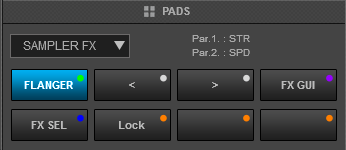 ---
Posted Mon 15 May 17 @ 8:50 am

Is it not possible to apply FX to the sampler without this addon?
---
Posted Mon 15 May 17 @ 8:56 pm

The actions are available (you can take a look in the Pads Editor), but no feedback on the default skin about which effect is selected for the Sampler slot.
A custom skin can provide this though.

BTW, we plan to have something in the default skin to show effects on the Sampler slot , but for now this page can do the job.
---
Posted Tue 16 May 17 @ 11:37 am

When will it be possible to have different FX assigned to different sampler groups? For example the filter would be nice if that could be assigned separately for a group.

---
Posted Mon 05 Jun 17 @ 8:48 am

Auxilio no se como instalar y empezarlos a usar :s

---
Posted Fri 16 Jun 17 @ 6:06 am

how do i open this window

---
Posted Sun 22 Oct 17 @ 7:43 pm