Forum: Addons
---
geposted Sun 06 Aug 17 @ 1:55 am
is there a wave @ the top ?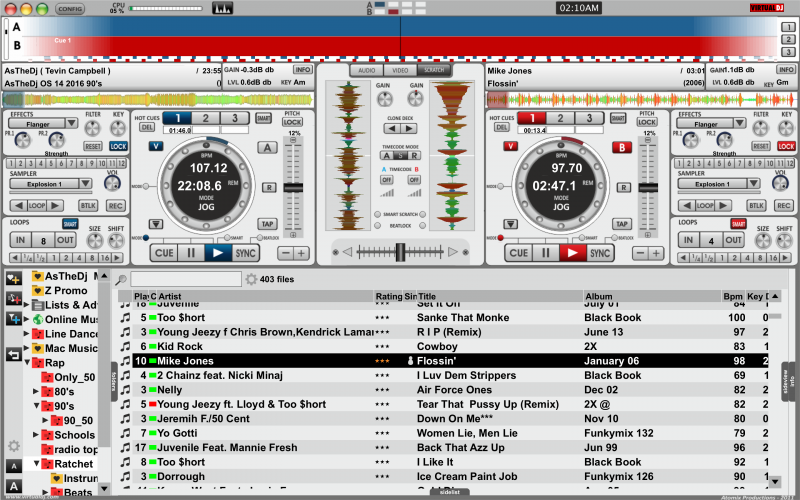 ---
geposted Sun 06 Aug 17 @ 7:12 am
AsTheDJ+ wrote :

is there a wave @ the top ?



Yes, just tested it, and there are 2 kinds (stacked and side by side) as shown below




---
geposted Sun 06 Aug 17 @ 8:41 am
AsTheDJ I see you're running it on a Mac.

There's a long standing issue (bug) with using the older <rhythm> code on Macs. It works fine on PC as you can see from klaus's picture.

If Atomix are not going to fix it then I guess the code will need changing.
---
geposted Sun 06 Aug 17 @ 8:45 am
Uploaded new version 1.1 with <rhythm> code changed to <rhythmzone>

The wave choices are now mirrored or non-mirrored. I might add scratchwave at some point.
---
geposted Sun 06 Aug 17 @ 12:47 pm
Don't you have slipmats rotary?
---
geposted Mon 07 Aug 17 @ 2:32 pm
If you're asking why the jogwheels don't rotate, I updated the skin to make that work.

Atomix haven't added that new version (1.2) to the download page yet.
---
geposted Mon 07 Aug 17 @ 4:46 pm
N/P and yes have a Mac with VDj-8
---
geposted Mon 07 Aug 17 @ 6:54 pm
It's available now and should fix the waveform problem, the jogwheels not rotating etc.

AsTheDJ please let me know if it's OK because I can't test on Mac.
---
geposted Tue 08 Aug 17 @ 4:19 pm
Great skin for outdoor events! Thanks

Is there anyway to enlarge the browser? I find the decks take up most of the screen not leaving much room to browse your library. Not sure if there is a setting I'm missing, or possibly something to incorporate into a future version.

Thanks again!
---
geposted Thu 07 Sep 17 @ 2:37 am
This was originally a VDJ 7 skin. VDJ 7 had a built in full screen browser mode, so the skin has no option for that.

The easiest thing you could do is add a floating browser window by using djdad's Browser Tweaks utility. Floating windows can be positioned anywhere (including a second screen) and resized.
---
geposted Thu 07 Sep 17 @ 4:47 pm
pues no se k poner aki


---
geposted Thu 04 Apr 19 @ 11:29 pm
Your (translated) post doesn't make any sense.

Please post in English, or use the correct forum area for your language.
---
geposted Sat 06 Apr 19 @ 9:58 am
Hi!
Congratulations!
You do a wonderfull work with this skin, Its a Great skin for outdoor events, but don´t forget about some events become so good and finish late.
In my opinion, you should make the dark version too or maybe better include the dark mode as an option into this great skin.
However it´s really good but sometimes, when the sunset come I miss the dark mode.
Good Job.
Greetings from México
---
geposted Wed 23 Oct 19 @ 6:47 am
@Atomix - Why has this previously available skin (downloaded 28,664 times) now been refused?

I happened to visit the uploads page after a member mentioned his skin not being available, at which point I saw the change.

Why no notification? If no one gives me feedback on why it's been refused, I am not aware of any problem and cannot correct any issues.

If this is somehow a mistake, please make the skin available again.

Thank you.
---
geposted Wed 14 Oct 20 @ 8:35 am
what is strange is link sends to category "others" which is empty (since software category "other" is not)
this is a buggy category (changes have been made some months ago for languages to appear in software)
and a skin have to stay in category "Skins" subcategory "main"

https://www.virtualdj.com/plugins/index.html?addonid=80645


---
geposted Wed 14 Oct 20 @ 9:39 am
I have been in contact with support, and apparently it was deemed incompatible.

No info given as to why - just removed without notice.

So I've been through it, and although most of it functions fine, I did notice a couple of issues (no vertical scratch waves showing, and the video windows weren't working).

Problems fixed and version 1.3 uploaded for approval.
---
geposted Wed 14 Oct 20 @ 11:21 pm
Approved and back up again. Thank you.


---
geposted Thu 15 Oct 20 @ 4:47 pm