Forum: VirtualDJ Skins


About skins, skin development and communicate with other skin developers.
Topic: VDJ Not Saving Enough Effects !

This is a question to the Dev´s.

I know that VDJ is not saving more than one effect, but would like to ask if there is any work in progress about this?

Some skins is using more buttons for effects. And the problem I have is that in every startup I do, I have to config it all over again.
My choise of skin is made by Fruit, and there is a lot of effect buttons in different sections like master or video that is not saved:(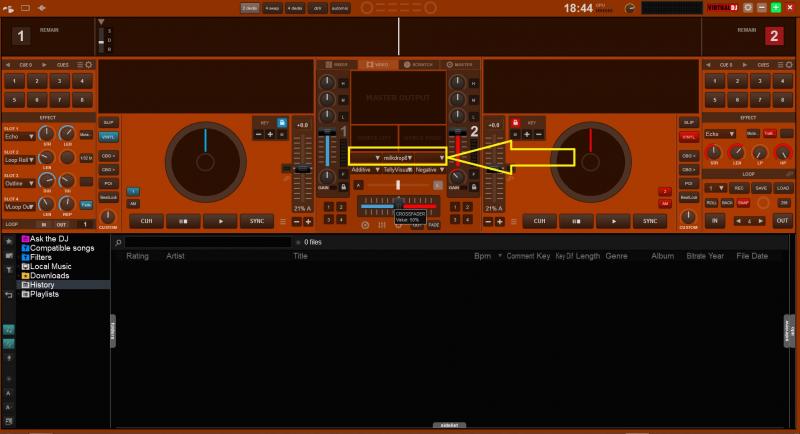 ---
geposted Thu 21 Sep 17 @ 10:32 am

Actually VirtualDj saves settings for more than one effect!
It saves the effects loaded on the first 5 effect slots for each deck.
Also it saves the settings for each one of these effects.

What doesn't save like this is the "Master Effect" where only the first slot gets saved.
I will report it.
Thanks!
---
geposted Thu 21 Sep 17 @ 4:49 pm

Thank you Phantom.

I hope this is an easy fix and will be in a near future update.

---
geposted Fri 22 Sep 17 @ 8:59 am

Usually we don't talk about future updates, but yes, this fix will be included on the next EA build
---
geposted Fri 22 Sep 17 @ 11:01 am

Thank you again for that information.
---
geposted Fri 22 Sep 17 @ 1:10 pm

And this whole time (since the release of v8) I thought it was just me!!

WOW!!
---
geposted Fri 22 Sep 17 @ 1:28 pm

Yeah, I noticed that too and just thought it was a "feature"
---
geposted Fri 22 Sep 17 @ 2:19 pm

Ditto, I just solved the problem with oninit mapping, I sort of feel stupid for not mentioning it.
---
geposted Fri 22 Sep 17 @ 6:37 pm

Thank You Devs

This was fixed for the Mastersection in BUILD 3921

-Fix droplets video transition not smooth at start and end
-Improve zoom video transition fading in center
-Fix pulselocker crash
-Store up to 5 master fx slot selections and master color fx selection
-KeyCue pad page has option to disable key jump
-Fix karaoke background music not starting when karaokeSkipSilence was on
-Fix search result count including separator
-keycue_pad_jump action to toggle jumping to cue point on/off

But I still having problem with saving effects in the videosection (picture above), its gone when I restart.
Could you please try to solve this !?
---
geposted Thu 28 Sep 17 @ 4:04 pm

Would like to have any respons from the devs about this, please.

Or I may get some help from loco to make a script for it with oninit mapping ;)
---
geposted Fri 29 Sep 17 @ 8:07 am

There is only one specific video effect slot.
I'm guessing that the skin uses additional regular effect slots there, possibly slots higher than 5.
---
geposted Fri 29 Sep 17 @ 8:45 am

Thank you Adion.

Does this means it is a thing that needs to be fixed in the skin, or is it possible to make it work with saving more than 5 slots from the program?



---
geposted Fri 29 Sep 17 @ 12:05 pm

This would be nice to have an answer to, so the skin developer (Fruit) could make some changes.
Or if this will be updated in the program for a future update.
---
geposted Sat 30 Sep 17 @ 9:30 am

If there are already 4 master effects as well, there are not enough automatically saved slots left anyway to have both 4 for video and 4 for master. At best they could be organized differently so that at least the first 3 would be saved.

For the others you would currently have to use an ONINIT script instead, since there's no immediate plan to store more effects in settings automatically. (Since they could cause a bad skin or script to select many effects in many slots that you may not be using anyway)
---
geposted Sat 30 Sep 17 @ 10:24 am

Thank you for that answer Adion.

Would think that saving more slots (for effects) will be asked about in the future from more users and skin developers.

Now I have to ask locodog for a way around this problem in Fruits skin.

Locodog, if you can help me out with a script for this would make my day ;)
---
geposted Sat 30 Sep 17 @ 11:35 am