Forum: VirtualDJ Plugins


Questions about plugins development, talks with other developers etc

Can someone pls tell me why despite all my efforts, and the computer telling me i have installed it Vocal remove will not enter my effects list. If vocal remove does not exist anymore can some pls tell me how to eliminate vocals on a track, my mixes sound horrible with 2 or more voices on them, there must be a way to do this. ty for your time.
---
geposted Mon 23 Oct 17 @ 6:51 pm

Where did you download it from, as I'm not aware of a vocal remover effect that is currently available.

If it is the one below then it won't work with VDJ8 as it was released in 2004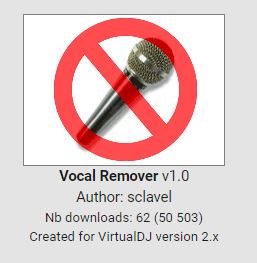 ---
geposted Mon 23 Oct 17 @ 7:01 pm

Vocal removal is not an effective thing anyway. The results are nearly always poor, simply due to the way it works, and the fact that you can't unmix a mix.

Just avoid playing two lots of vocal on top of each other. Learn where the vocals are in your music, and mix during the instrumental sections.
---
geposted Mon 23 Oct 17 @ 7:16 pm

it was this one, thankyou so much! could someone pls recreate the vocal_remove for vdj8 it would be very helpful. so far the only way i have to remove vocals is to run loops.
---
geposted Sun 05 Nov 17 @ 7:10 pm

If you really must have it, despite it being something that never works well, why not look for a VST plugin?
---
geposted Sun 05 Nov 17 @ 7:16 pm

user16617243 wrote :

so far the only way i have to remove vocals is to run loops.



That is SO much better when possible, because then the vocals were never there

Vocal removal never really works that well, simply because it's not really possible to do well
It's like taking the suger out of a cake after it has been baked
---
geposted Mon 06 Nov 17 @ 1:55 am