Forum: Wishes and new features


Post here the features you would like to see developed in VirtualDJ in the future.

I have the Roland Dj 202
Wondering how soon can or will it be VDJ compatible. I can run it with Serato but I'm not a true fan of their software. I'm willing to work with VDJ in formatting it if that's an option
---
geposted Thu 30 Nov 17 @ 11:18 am

Same issue here...happy owner of Roland dj 202 and cannot wait until it can be used with VDJ! Any help would be fantastic!!!
---
geposted Sun 10 Dec 17 @ 4:34 pm

ETA is end of this month
---
geposted Sun 10 Dec 17 @ 5:00 pm

Same here , 202 is dope but serato is to buggy
---
geposted Thu 14 Dec 17 @ 10:47 pm

Guys, still waiting the mapping. Dj Dad said that the mapping will be available until end of the month. Any other information?
---
geposted Fri 29 Dec 17 @ 7:46 pm

Bought mine over a month ago anticipating VDJ support. The serato freebie has long run out and my nice new controller is gathering dust :-( .

Please VDJ ?

I need to mix badly !




---
geposted Thu 08 Feb 18 @ 2:20 pm

So I'm about ready to sell my 202 unless VDJ is available. Are most of you users not a fan because serato uses so much of the computer processor or ease of use. I've used the free version with no controller and loved it. But since i bought the 202 and later found out my processor on my older mac wasn't good enough I was tempted to give up but if VDJ is ready Id love to buy a key. So has anyone done the 202 mapping yet I guess is the question. Thanks in advance
---
geposted Tue 27 Feb 18 @ 12:36 pm

user12508469 wrote :

So I'm about ready to sell my 202 unless VDJ is available. Are most of you users not a fan because serato uses so much of the computer processor or ease of use. I've used the free version with no controller and loved it. But since i bought the 202 and later found out my processor on my older mac wasn't good enough I was tempted to give up but if VDJ is ready Id love to buy a key. So has anyone done the 202 mapping yet I guess is the question. Thanks in advance



Yes, it has been included natively in VDJ. It's available in the current Early Access release.
This is from my laptop: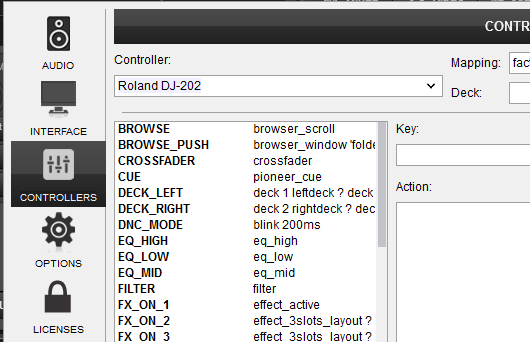 :

So enable Early Access releases in your VDJ settings, or download directly from here:
www.virtualdj.com/download/build.html
The important part is the number after the build no, which is the controller support build no if you will
- in my case .1383, where the DJ-202 is included

Edit: You should also read the fix in the last post here in case you've got a DJ-202 unit where the crossfader doesn't go all the way to the right:
https://www.virtualdj.com/forums/222496/VirtualDJ_8_2_Technical_Support/Roland_505_DJ_controller.html

---
geposted Tue 27 Feb 18 @ 1:06 pm