Forum: VirtualDJ Technical Support


For reporting any bug, questions or comment related to the latest version of VirtualDJ
---
(NOTE: VirtualDJ continuously updated, so many older topic on this forum are most probably already fixed in the current build)

If you need extended support, contact our Support Team.
Forum Guidelines  (*) The moderators hold the rights to move or modify posts in order to keep the discussions clear or to facilitate the search.
Topic: Does not save label

I am trying to put my own key change notes in the label section of the tag. If I write the note in the tag editor, write tag, and save it, the note shows up right away. But, if I close and reopen VDJ8, the note I wrote into the label column does not display. What am I doing wrong?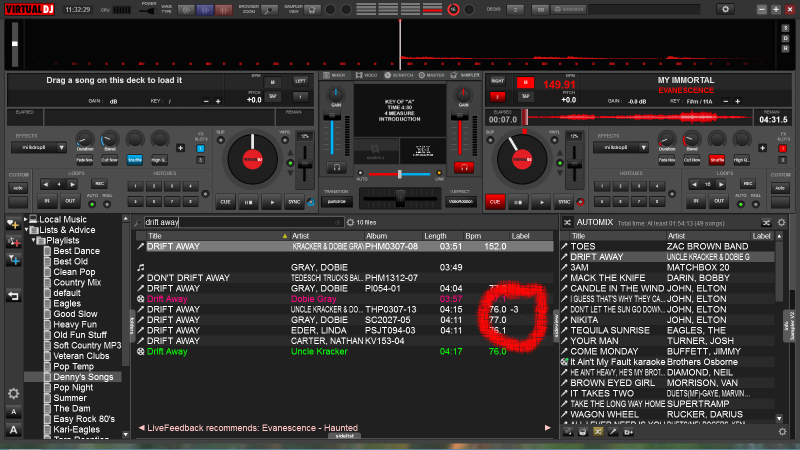 ---
geposted Sat 13 Jan 18 @ 4:49 pm

And other fields are working fine?
---
geposted Sat 13 Jan 18 @ 9:55 pm

Adion I do edit the Artist and Title quite often, and it always saves for me. But adding a comment in the label column does not save. It beats me....
---
geposted Sat 13 Jan 18 @ 10:32 pm

just for testing...copy/backup the database first, then delete the database and try that exact file again.

It works for me.

I did some testing, I Attrib (flag) the file (it's a ZIP FILE/KARAOKE) READ ONLY and went to add a comment on the LABEL field and it saves.
This FIELD does not get written to the FILE itself (like the title/artist etc.. fields) but saves it to the database.


---
geposted Sun 14 Jan 18 @ 12:11 am

Tried that Magic, it did not work for me.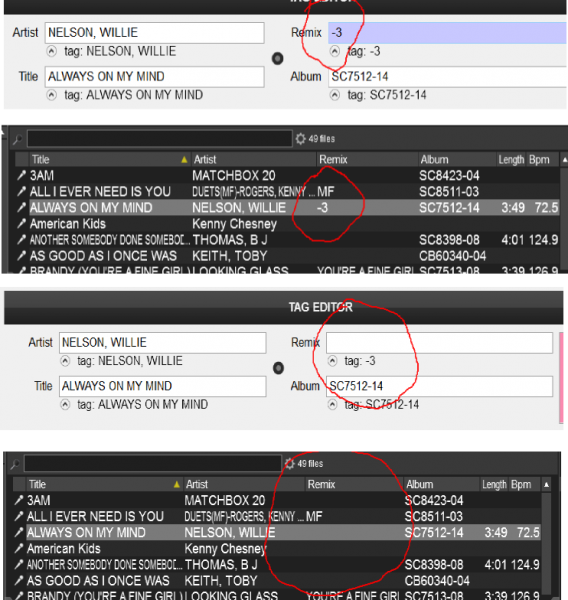 In these images, the first of which I went to the tag editor, wrote in a -3 note in the remix field, closed the editor, and the -3 note shows in the browser. Perfect! But when I close VDJ and reopen, you can see the -3 note is under the remix field for some reason, and the -3 note does not show in the remix column of the browser. I have tried adding this -3 note to the artist field, title field, label, and comments and the -3 note just will not display in the browser after closing and reopening VDJ. Ah, the ghost in the machine.:) v8.2 b3934
---
geposted Sun 14 Jan 18 @ 2:22 pm

It sounds like the database is not saved at all.
Is the readOnly option enabled perhaps?

Other than that, check the file modified date of your database.xml
---
geposted Sun 14 Jan 18 @ 4:31 pm

Adion the readOnly option was set at Yes. I did change it to No, and now it saves and displays the note properly!! You the Man! Thanks!
---
geposted Sun 14 Jan 18 @ 4:42 pm