Forum: General Discussion


About VirtualDJ and DJing in general

---
If you need extended support, contact our Support Team.
Forum Guidelines  (*) The moderators hold the rights to move or modify posts in order to keep the discussions clear or to facilitate the search.
Topic: MIC unable to record

all help is appreciated.

i have a external behringer vmx 1000 mixer and hercules rmx sound card. i can record normally and sounds fine, i can even hear the microphone through the mixer loud and clear but it will not pick up on the recording. I have searched the manual and feeds but no configuration i have read is working. the picture indicates the options for mic sound and i have selected each config to no avail.
all equipment used:
sound card: rmx / controller
2 ndx 800 with controller capability (no soundcard)
pc windows 8
behringer vmx1000 usb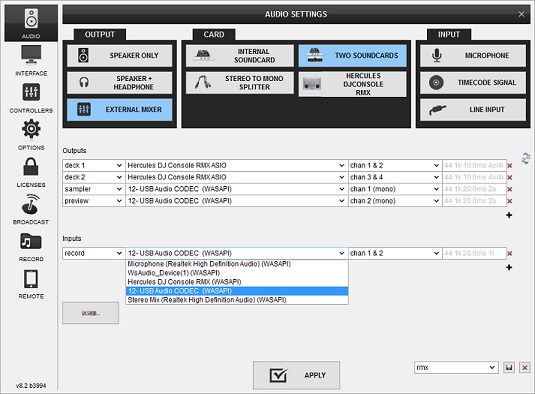 ---
geposted Fri 23 Feb 18 @ 4:45 am

On some hardware setups the mic is send diretly to master out and not to the laptop. In that case you can't record it inside VDJ as part of the mix. You then instead need to send the master out (or booth out) somewhere to get recorded

Looking at your audio config this could be the case for your setup
My guess is that if you click the rmx button and then automatically also get the speaker and headphone option selected in the first column, it would have a bigger chance of success. Often in external mixer mode it won't work
---
geposted Fri 23 Feb 18 @ 5:28 am

Also, make sure you set up the mic in the Windows system.
---
geposted Fri 23 Feb 18 @ 12:58 pm

TearEmUp wrote :

Also, make sure you set up the mic in the Windows system.



I've set it up in comp it won't register my rmx only mixer n computr
---
geposted Fri 23 Feb 18 @ 9:56 pm

klausmogensen wrote :

On some hardware setups the mic is send diretly to master out and not to the laptop. In that case you can't record it inside VDJ as part of the mix. You then instead need to send the master out (or booth out) somewhere to get recorded

Looking at your audio config this could be the case for your setup
My guess is that if you click the rmx button and then automatically also get the speaker and headphone option selected in the first column, it would have a bigger chance of success. Often in external mixer mode it won't work



Are you saying I need to add speaker and headphones because if try that I lose the mixer
---
geposted Fri 23 Feb 18 @ 9:57 pm
---
geposted Fri 23 Feb 18 @ 10:15 pm

thanks all, i finally figured out what my issue was, with my mixer and the set up i showed, i had to run a loop back from my record out to my mic send and it is crystal clear. it only took me from 6 pm to 1 am...smh
---
geposted Sat 24 Feb 18 @ 7:03 am