Forum: VirtualDJ Technical Support


For reporting any bug, questions or comment related to the latest version of VirtualDJ
---
(NOTE: VirtualDJ continuously updated, so many older topic on this forum are most probably already fixed in the current build)

If you need extended support, contact our Support Team.
Forum Guidelines  (*) The moderators hold the rights to move or modify posts in order to keep the discussions clear or to facilitate the search.
Topic: My loop in and loop out turns off after a couple of seconds?.

Hi my loop in and loop out button turns off at a couple of seconds I think about 12 seconds. Is there a way to make my loop in and loop out not turn off so I can make my loops longer?.

Thank you.
---
geposted Thu 11 Oct 18 @ 7:12 pm

increase the loop count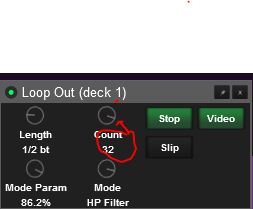 ---
geposted Fri 12 Oct 18 @ 12:53 am

Nothing to do with the Loop Out Effect i guess.

When trying to set a "Manual" loop (with Loop In/Out button), indeed they turn off after about 32 beats. For longer loops, you will have to use "auto" loops, using loop 64, loop 128 etc. (actions mapped to custom/keyboard/controller buttons)
---
geposted Fri 12 Oct 18 @ 6:48 am