Forum: VirtualDJ Technical Support


For reporting any bug, questions or comment related to the latest version of VirtualDJ
---
(NOTE: VirtualDJ continuously updated, so many older topic on this forum are most probably already fixed in the current build)

If you need extended support, contact our Support Team.
Forum Guidelines  (*) The moderators hold the rights to move or modify posts in order to keep the discussions clear or to facilitate the search.
Topic: Searching iTunes - Gets Live Feedback

Hey All...
Recently, maybe with the last update... I am no longer able to search my iTunes library. When I do, VDJ shows me an assortment of Live Feedback options only. Can anyone help with this?
Much Appreciated.
---
geposted Sat 19 Jan 19 @ 4:31 am

Greetings....
Thank you - that was done.
I have attached (3) images of what VDJ is doing...

Image #1 - I have several Seger albums in my itunes,... but when I hit the search field, this is what I get.
Image #2 - I have several Steve Miller albums in itunes. This time I also have a video clip, which gets found instead of the music.
Image #3 - I am searching for The Trews... as you can see Paranoid Freak comes up with the VDJ "live" (i think icon), but none of my albums?

What in the heck is going on?
Alternatively... is there an option to just delete VDJ, remove all cache, preferences, etc... and start a fresh install?

Mucho Appreciated... thanks in advance.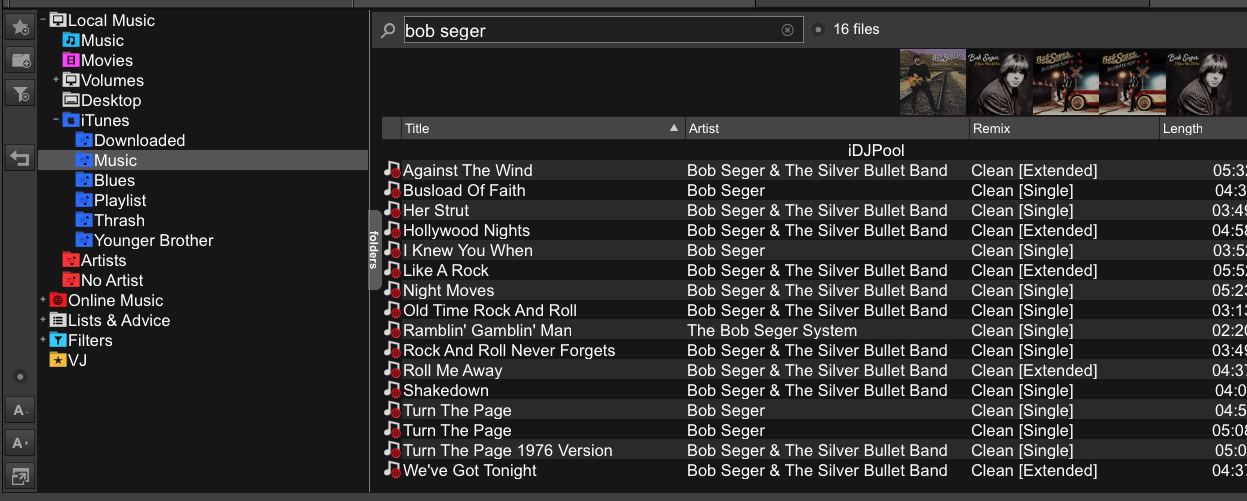 ---
geposted Sun 27 Jan 19 @ 4:15 am

Have you added all of your music to VDJ's database?
While VDJ's browser can show you iTunes playlists, that doesn't mean VDJ knows about them.

[Url][http://www.virtualdj.com/manuals/virtualdj/interface/database/search.html/URL]
---
geposted Sun 27 Jan 19 @ 9:35 am

Awesome...!!
Thank you. The missing piece was (of course) Batch > add to DB.
Did not previously understand Alternate Catalogs either - fantastic.

Much Appreciated :)

---
geposted Sun 27 Jan 19 @ 5:36 pm

Also, add the "My Library" Add-On.

Settings>Extensions>Other>Database Filter>My Library
---
geposted Sun 27 Jan 19 @ 9:47 pm