Hardware Manuals
Controls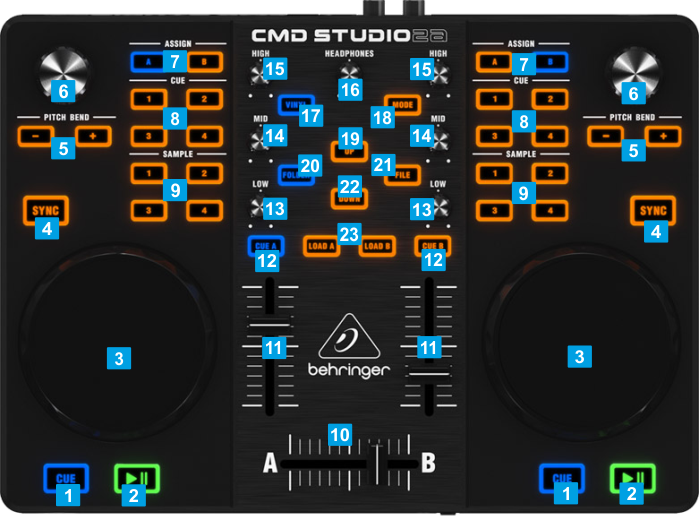 KEY
ACTION
1
Cue
When track is paused, sets a Temporary

Cue

point and previews the track while pressed. Jumps to the assigned

Cue

point when track is playing
2

PLAY
Play-pause Left/Right Deck
3

JOG
Touch-sensitive jogwheel for

Scratch

or Bend, depending on the Vinyl/CD mode
When the MODE button is pressed, jowheels are set to Search (Seek) mode for fast searching track in time
4

SYNC
Matches Tempo and Phase of the Left/Right Deck with the values of the opposite Deck
5

PITCH BEND
In Tempo mode : Temporary slow-down/speed-up track. Tempo will resume to the value designated by the Pitch fader when the button is released

In

Loop

mode :
MINUS : Sets a

Loop

In (Start) point for a manual

Loop


PLUS : Sets a

Loop

Out (End) point for a manual

Loop

. Exits

Loop

when enabled

In Effect mode :
MINUS : Selects the next available Effect
PLUS. Activates the selected Effect
6

PITCH
In Tempo mode : Adjust the tempo (BPM) of the track

In

Loop

mode : Doubles/halves the size of the

Loop

. when the MODE button is pressed, moves the triggered

Loop

backwards/forward by 1 beat.

In Effects mode : Adjusts the 1st Parameter of the selected Effect. When the MODE button is pressed, adjust the 2nd Parameter of the selected Effect
7

ASSIGN A/B
ASSIGN A : Sets PITCH BEND and PITCH keys to

Loop

mode when enabled
ASSIGN B : Sets PITCH BEND and PITCH keys to Effects mode when enabled.
When both are disabled, the PITCH BEND and PITCH keys are set to Tempo mode (default mode)
8

HOTCUES 1-4
Assign a Hotcue 1 to 4 or jumps to the Hotcue (if assigned) to the Left/Right deck. When MODE button is pressed, the buttons delete the assigned Hotcue
9

SAMPLES 1-4
Trigger a Sample 1 to 4 from the selected Sampler Bank. If the Bank has less than 5 samples, both sides of the unit will trigger the same samples. When the Bank has more than 4 samples, left side will trigger samples 1 to 4 and right side will trigger samples 5 to 8
When MODE button is pressed, the buttons stop the triggered Sample
10

CROSSFADER
Blends audio signals from the Left and Right Decks.
When the fader is at the far left position, only Left Deck will be sent to the

Master

Output.
When the fader is at the far right position, only Right Deck will be sent to the

Master

Output.
11

VOLUME
Adjusts the Output Volume of the Left/Right Deck
12

Cue

/PFL
Sends Left/Right deck's audio signal to the Headphones Channel for pre-listening
13

LOW
Adjust the Low (Bass) Equalizer Band
14

MID
Adjust the Middle Equalizer Band
15

HIGH
Adjust the High (Treble) Equalizer Band
16

Cue

LEVEL
Adjusts the Volume of the Headphones Output Channel
17

VINYL
Sets both Jogwheels to Vinyl (

Scratch

) mode when enabled and to Bend (CD) mode when disabled
18

MODE
Hold this button to access secondary functions for the keys as described in this guide
19

UP
Selects the previous folder/file from the Browser
20

FOLDERS
Sets focus to the Folders list of Browser. If focus is on the Folders list, opens/closes sub-folders.
When MODE button is pressed, selects the new view of the Sideview
21

FILES
Sets focus to the Songs list of the Browser.
When the MODE button is pressed, sets focus to the Sideview of the Browser
22

DOWN
Selects the next folder/file from the Browser
23

LOAD
Loads the selected track from the Browser to the Left/Right Deck
When the MODE button is pressed, unloads the same Deck
Note :
The unit offers the ability to select a different MIDI Channel and in order to ensure proper functionality, VirtualDJ forces MIDI Channel 4 for this unit on initialization. If you find that some other application doesn't work properly after VirtualDJ is used, follow this procedure to reset the unit to its primary MIDI Channel.
- While holding left
Cue
and left PLAY buttons simultaneously, plug the USB cable to the unit,
- When these buttons blink (after a couple of seconds), release the
Cue
and PLAY buttons.
---
For further Technical features and specifications, visit
Behringer CMD Studio 2a

Product's Page
---

Hardware Integration Department
2016 - ATOMIX PRODUCTIONS
Reproduction of this manual in full or in part without written permission from Atomix Productions is prohibited.