Hardware Manuals
Setup
Switch to Computer mode
When the SC6000M is powered on, it will be set to Standalone/Engine mode. To switch to Computer mode and control VirtualDJ you need to ...
- press on the Computer icon at the SC6000M screen
- or hold down for a second the VIEW button at the center-top panel of the device, select SOURCE, then pres on the Computer icon.
Firmware & Drivers
Firmware (both Windows and Mac)
: Update the firmware of the unit to the latest available version from
https://www.denondj.com/downloads
Drivers
: No driver is necessary to be installed on both Windows and Mac OSX computers.
Note
Due to Denon SDK incompatibility, the screens will be operational on Mac OSX 10.14 or later.
,
VirtualDJ 8 Setup
Download and install VirtualDJ from http://www.virtualdj.com/download/index.html (in case you have not done already)

Once VirtualDJ is opened, a Login Window will appear. Login with your virtualdj.com account's credentials.

A Pro Infinity or a Pro Subscription License is required to use the Denon DJ SC6000M . Without any of the above Licenses, the controller will operate for 10 minutes each time you restart VirtualDJ.
http://www.virtualdj.com/buy/index.html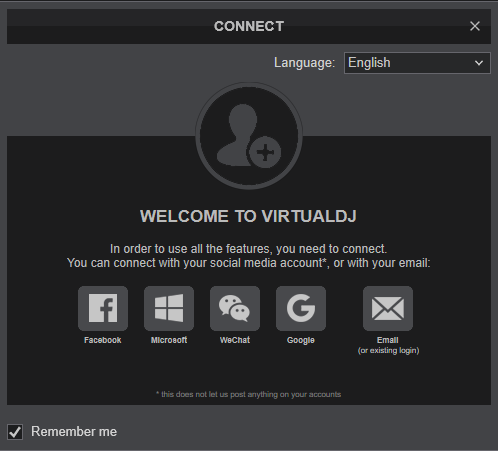 A detection windows will appear next verifying proper connection.



Click to OK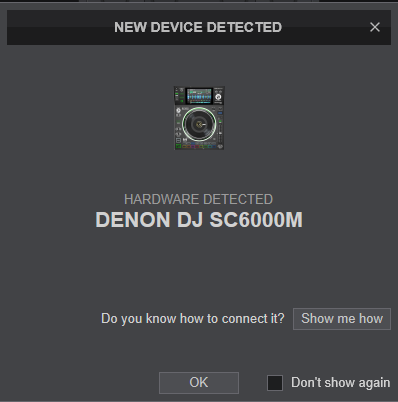 The unit is now
ready
to operate.
Note
: The SC6000M doesn't offer a USB Audio Interface (sound card). See
Audio Setup Options in VirtualDJ Manual
For further software settings please refer to the User Guide of VirtualDJ 8.
http://www.virtualdj.com/manuals/virtualdj8/index.html
Controls