Forum: VirtualDJ Plugins


Questions about plugins development, talks with other developers etc
Topic: TellyVisuals and TellyMedia - Page: 7

Do I just need to stop posting Huey because of your constant badgering? Take a hike man. Did you ever get a decent computer?
---
geposted Tue 23 Apr 19 @ 12:33 am

Not sure if your joking or if your being serious right now??

Didn't think asking a question was badgering since we've talked before and Im pretty sure TV4 would be Mac ready (shrugs) Guess Ill have to reread our messages.

As for a new computer, Yes I went with a newer MacBook.
---
geposted Tue 23 Apr 19 @ 3:19 am

Obviously I would say so if it was the case... I just spent a whole lot of time changing a lot for no money... Your comments don't help and become a distraction to the current task at hand which is testing TV4. The only thing I said related to a mac is that all the graphics have been repackaged so that an app does not care what device is being used underneath, could be DX9, DX11, or OpenGL This repackaging is also much more capable. Just a slight dent moving forward in a big project. That in itself does not make it mac ready. You probably think that 64 bit has something to do with bringing it all together... Not hardly. The fact that VDJ 64 uses DX11 instead of DX9 was the motivation for repackaging the graphics which I have been wanting to do anyway. 64 bit is just a recompile. The new graphics package is plug and play to any of my own code.
---
geposted Tue 23 Apr 19 @ 6:28 am

Ok Don, relax.....

I'm no programmer so the only way I'm gonna know is to ASK. I guess if you can't handle my questions or don't wanna deal with me just keep it all on Facebook since I'm not a Facebook user.

Maybe you should make it subscription-based since people really don't "donate" , then you'd have something coming in every month.

I'd gladly pay it even if I never use it......


---
geposted Tue 23 Apr 19 @ 2:34 pm

Well huey I am truly sorry to have offended you. It comes from being very tired sometimes. I just spent god only knows how much time redoing all the graphics for TV. This was not only to be VDJ 64 bit compatible but to isolate an application (TV or whatever) from the underlying graphics. Not just a simple change mind you, but much improved graphics that will help us take into the future of TV. Also added compatibility for OpenGL used on mac (any underlying graphics mechanism is now easy to support). I was able to do this work because I have not had any pay for work in awhile. So I sit here working my ass off with bills piling up. I have almost no help with it but that is ok. If I did have help, I would probably want 4 or 5 good programmers working on it. I would have someone that knows what they are doing, doing the testing. I would have someone put together a kick ass web site. I would be bouncing ideas off of others for design and other things.

The thing is about your mac comments, it that you quite frequently inject something about that when I make a comment. I just can't imagine by any stretch of the imagination that you think that I would not tell you when things are mac ready. In this case I was trying to say 64 bit is ready for testing... Then you change that to something else... It does not help. Do you really think I would not mention something about the mac if it was ready? Why on earth would you think I would not take that as a rub? I don't much care about that but when you change the flow of what I am trying to say then it is just rude and rather than helping you don't help. Especially when you at least should know I would be saying all kinds of things about it if it was ready... duh

Gee man, you think I am all about facebook for some odd reason. I don't particularity like it because it has poor organization for historical information which I have already said before. The only good things about it are, it is interactive and it is what we have at present. We do not let things get out of hand. I had some canned up forum for awhile but did not like it. I know what I want in this regard. I want a lot. I don't care how long it takes. I don't care if it makes you happy or not. You love coming here though where useless information prevails. Dose not matter if the information here is true or false as long as it is not facebook I guess. Does it somehow make you feel more important if you don't use facebook? I was not allowed to talk about things here related to things that might cost money. So the discussion of TM and TV left here. That lasted I think 1.5 years or there about. I still don't much care about talking about them much here any more even though they have lifted their restrictions somewhat.

You don't think I can take it do you? What a load of crap. I could have just walked away years ago along with others. I would be much better off financially. I am not here for the money. I have told you I am in this to the end of my life. That is frekin commitment. I am not here to do some stupid app to make you happy. I have no interest in porting TV or TM anywhere. How many times have I said that those are only tools to help create something better. I don't care what computer it runs on at present. I only care about getting all the pieces together which is a big job. It can be hard trying to answer questions that I should not have to. Or suggesting numerous fixes on your behalf that anyone with half a brain should know just to be discredited by people who don't know any better. Yeah that can be hard to take :)

Another waste of time I am sure.




---
geposted Mon 29 Apr 19 @ 2:39 am

Rant over??

Just to clarify I wasn't talking about TM/TV...... lol!!

You really gotta chill out Don, take a few shots or smoke a joint.

I don't think it's that serious, is it??
---
geposted Mon 29 Apr 19 @ 7:41 pm

Please remove this entire thread.
---
geposted Mon 29 Apr 19 @ 8:56 pm

Hi Don
I have installed the TellyMedia Plugin on 2 different machines and it does not play mp4 and wmv files.
The files work perfectly in virtual dj 8.
Any suggestions?

Regards,

Lance
---
geposted Wed 18 Sep 19 @ 1:10 pm

Hey lance let me guess it is some Intel GPU... They are playing but you can't see them :) This is most likely the case and it is because there is a bug in one or more of the drivers for some Intel GPUs... It took me about 6 months to find a place where Intel admitted to the problem... The fixed driver was also not available for normal download... I don't care to hunt the problem or find fixes for that anymore.

This option is not in the free version of TM. In the plus versions you can set YUV decoding to software or hardware. The default is to use hardware which is where the problem is.. The bug in the driver is one of these... It says it can do something when it cannot... or it thinks it can do something but does not work... This is going to be changed for the TM 4 versions and YUV decoding option will go away. So select software for YUV decoding will most likely fix the problem if you have plus or prime versions..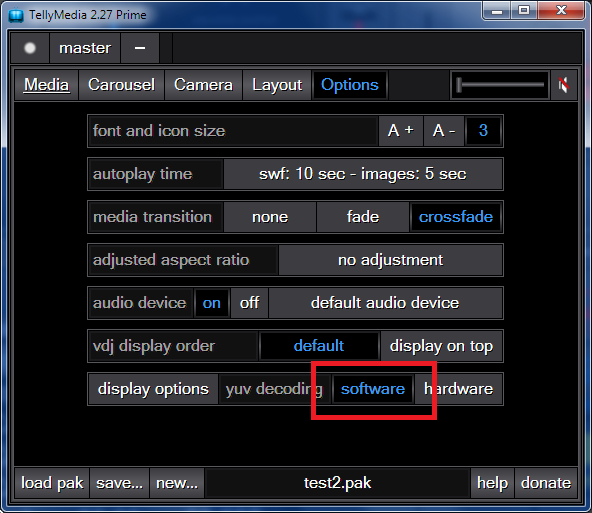 ---
geposted Wed 18 Sep 19 @ 3:06 pm