Forum: Addons
Topic: Remote DeckControl
---
geposted Fri 05 Jun 15 @ 5:30 pm
Do I need to download this to both the PC that I will be using AND my Ipad in order for it to work?
---
geposted Fri 05 Jun 15 @ 5:39 pm
also, how to i install this on my Ipad?
---
geposted Fri 05 Jun 15 @ 5:48 pm
The link (Download buttons) will install the Skin to your computer (in VirtualDJ/Skins/iPhone folder)

Launch Remote v8 to your iPad. Once the application starts, open VirtualDJ Settings->REMOTE tab.
You should see your iPad as a connected device.
Click on the "Change the Remote skin" button.
Navigate to Documents/VirtualDJ/Skins/iPhone folder and select the Remote DeckControl file.
The skin will start uploading to your iPad and after a couple of seconds you should see that on screen.
---
geposted Fri 05 Jun 15 @ 8:48 pm
Ok, great!!! I'll try that the next time I get a few minutes. Great idea for an addon. Thank you.
---
geposted Fri 05 Jun 15 @ 10:41 pm
Hi can you help me need skin for numark mixdeck express.
I am having virtual dj 8 infinity , when I am using my controller nothing seem to move on software.
---
geposted Wed 09 Dec 15 @ 6:49 am
Mi piace molto questa pelle, per ora l'unico difetto che ho trovato è che pare manchi la regolazione del volume dei sampler, che sarebbe molto utile. La uso su un tablet samsung da 7

I really like this skin, for now the only fault I could find is that apparently no adjustment of the volume of the sampler, which would be very useful. The use of a Samsung tablet 7

---
geposted Fri 04 Mar 16 @ 8:16 pm
---
geposted Sun 05 Feb 17 @ 11:07 am
Any chance of an Android version?
---
geposted Thu 19 Oct 17 @ 1:31 pm
I know it says "for iPad" but it's just a skin. It'll work on the VDJ Remote, whichever hardware you're using.
---
geposted Thu 19 Oct 17 @ 6:54 pm
Estuve buscando por aqui y no encontre la respuesta, tampoco esta en la ayuda de la configuracion de VDJ.
Cuando estoy mezclando y meto un loop con el sampler desde la app para android con el skin de pads, tengo que fijarme bien que en la app este seleccionado el pad del deck que este seleccionado en VDJ en la pc porque sino no se sincronizan los BPM, no encuentro la forma de sincronizar los loops desde cualquier deck seleccionado del pad en la app, con la controladora no tengo ese problema ya que solo tiene 4 botones por deck, pero los tengo programados para efectos y por eso uso el sampler con la app del celular, espero haber sido clara, adjunto capturas de la app y de la pc.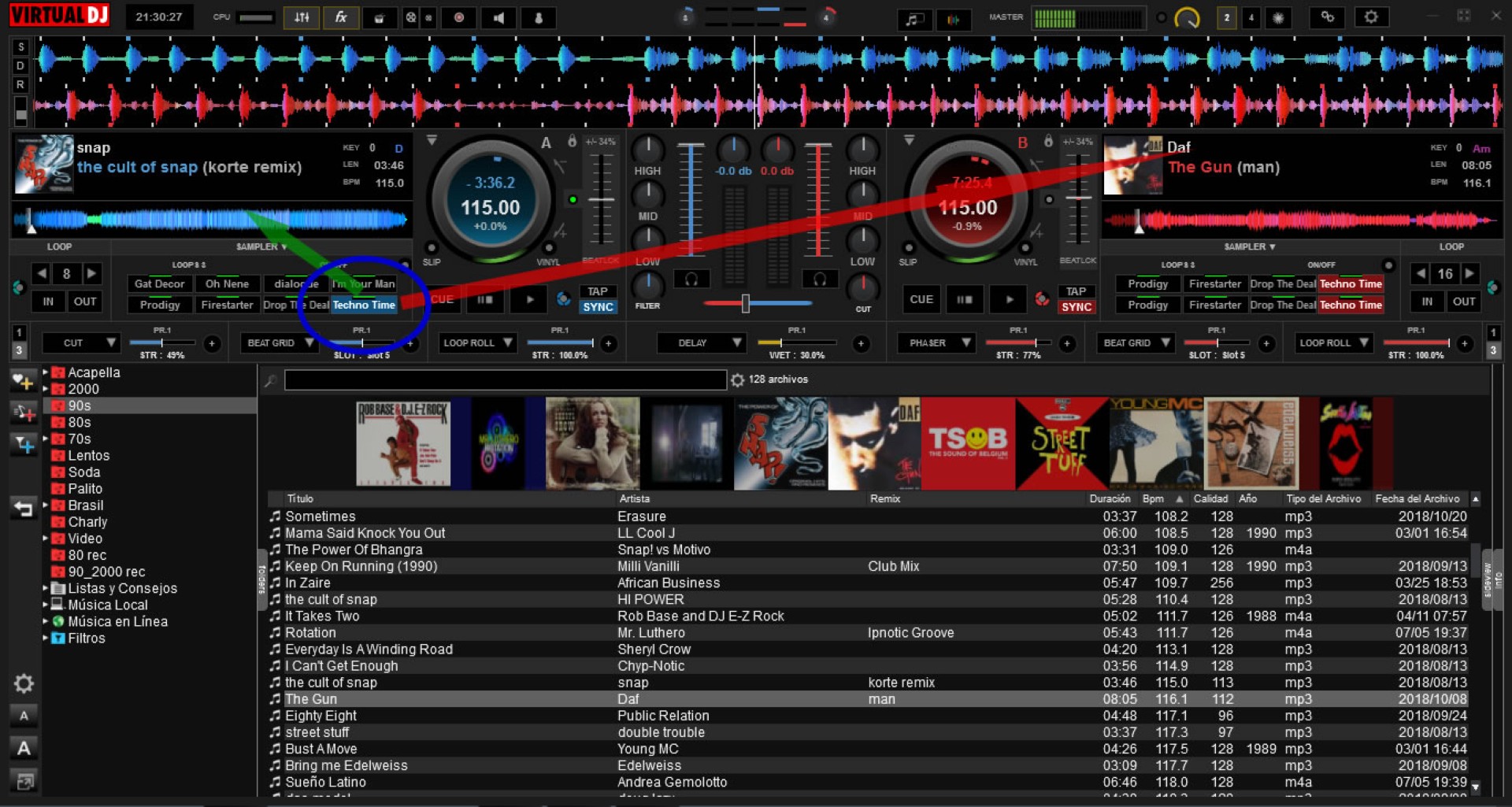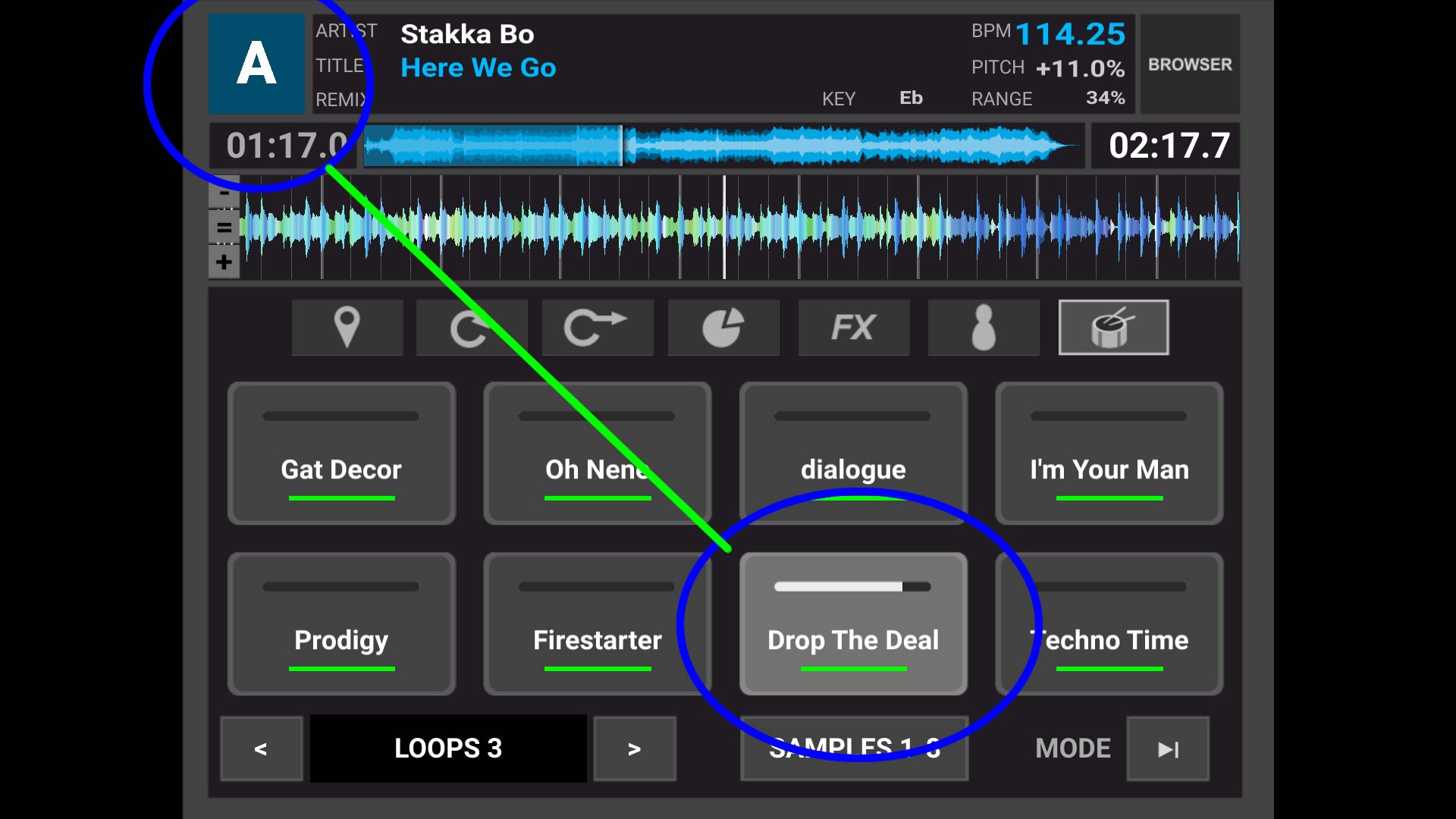 ---
geposted Tue 30 Jul 19 @ 1:13 pm
Please write in English. Translation is not good sometimes.

Yes, this Remote skin was made before Pads were implemented in VirtualDJ, so you will not get a match in modes/page and most of the times not even a match on the pad buttons. I put in my to-do list to offer an update, but no ETA atm.
---
geposted Wed 31 Jul 19 @ 8:43 am
Hello djdad thank you for this really top skin that I use on my ipad.

Would it be possible to know how (the script to modify) to add the color of the cues that I have on the skin of my virtual dj to the skin of my ipad?

I tried as directed

Cue_color 1'yellow 'but cue 1 is not yellow and does not change to yellow either when activated.

I would have liked to do for example:

Cue 1 blank before activation
Cue 2 orange before activation
like this until Cue 12 before activation
And the Cue 13 is fixed green.
Once activated they become dark until the next cue but can activate them in play / stop

And last question I have not found how to play / pause / stop on the decks?

Thanks for your help.
---
geposted Mon 23 Dec 19 @ 6:35 pm