Forum: Addons
Topic: Skin Builder Extractor
---
geposted Fri 25 Nov 16 @ 3:10 pm
Hi Babis

I have just used this tool for the first time, after designing a layout with the new skin builder.

When viewing the end result in VDJ, I noticed that the layout was not the same as I had designed.

My design had the decks in a "non mirrored" format, but the built skin had moved certain parts around and the end result was mirrored.

Is this a limitation of the builder or the extractor? Can we only make mirrored layouts?
---
geposted Sun 18 Dec 16 @ 10:51 am
OK never mind. I figured it out myself. :-)
---
geposted Sun 18 Dec 16 @ 4:14 pm
The easiest way to make your own custom skin - Skin Builder Extractor - is now updated to version 4

Changelog:

Compatible with Skin Builder skin version 4 (vector graphics)

Much faster skin extraction

Ability to change the colors or all modules

Includes 3 Demo projects and 3 Color Profiles

Option to select Default, Alternative or White (for White Browsers) Browser Icons

Option to select between Default, Dark(er) and White Browsers

Ability to create White/Day skins

Draw Zones are projected numbered and in relative position and size to the Background tab view

Projects are converted to computer's resolution, so they can be shared.

Respects persistent variables status when loading Project to VirtualDJ Settings

Option to change VDJ folder

Last used color profile saved

Ability to copy Left/Right Deck colors to Right/Deck

Ability to reset Deck colors to the original values of the loaded Color Profile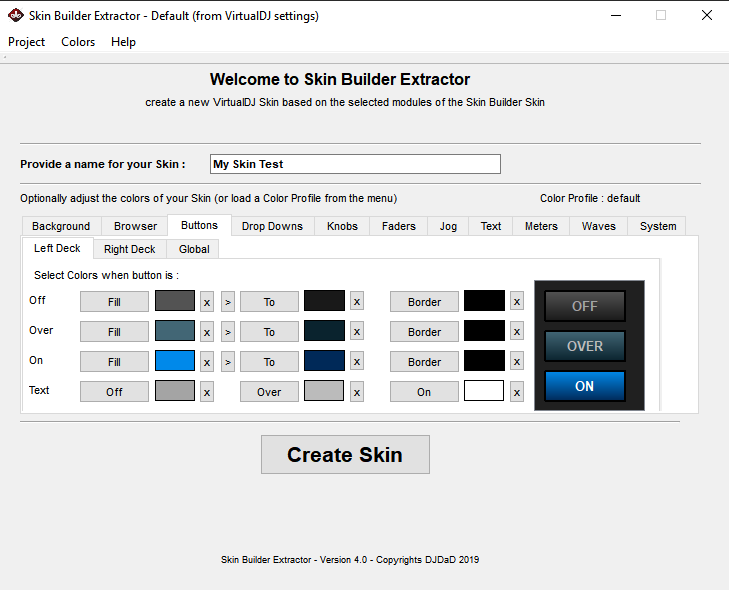 Have fun ;)

PS. Thanks to all Beta testers for taking the time to test during development
---
geposted Mon 01 Jul 19 @ 10:41 am
HI i created a new skin with skin builder a few weeks ago. i would like to go back to the skin and make some modifications. i try to load the skin into the skin builder using the skin extractor, but it doesnt seem to do it. how can i take a skin i created and put it back in the skin builder so i can modify it?

thank you


---
geposted Mon 29 Mar 21 @ 3:44 pm
You can't load a skin in Extractor, even if created with Skin Builder..
Your only chance is to have the Project saved and have kept the Skin Builder skin and the modules in place.
---
geposted Mon 29 Mar 21 @ 6:07 pm
---
geposted Thu 09 Sep 21 @ 1:55 pm
Hi there, is the download link for Skin Extractor still available? The URL for the plugin has no download link and simply points you to the "how to install plugins" page.

It also does not seem to be available to download within the application plugins section.

https://www.virtualdj.com/plugins/?addonid=80488
---
geposted Fri 03 Jun 22 @ 2:14 am
---
geposted Fri 03 Jun 22 @ 4:33 am
---
geposted Sat 04 Jun 22 @ 3:26 am