Forum: Addons
Topic: Prime 4 Extended Screen Skin
---
geposted Thu 09 Mar 23 @ 4:28 pm
How to install:
Go to VDJ Skin directory. For Windows this is:
%USERPROFILE%\Documents\VirtualDJ\Skins or %USERPROFILE%\AppData\Local\VirtualDJ\Skins
On Mac: \Users\YourUserName\Library\ApplicationSupport\VirtualDJ

Delete or rename if existing: Denon Prime4 Screen.zip
Rename Prime 4 Extended Screen Skin.zip to Denon Prime4 Screen.zip
Restart VDJ
Have fun!
---
geposted Fri 10 Mar 23 @ 6:48 am
Hey folks,

a new version (v0.2.5) of the extended screen plugin is available containing features and bug fixes:
* Pad Page selection in 4 pad version (Prime GO)
* Fixed browser in 2 deck vertical view, when line spacing is big
* Option to use classic browser view and card view in 2 deck vertical view
* Fixed some colors in daylight mode
* Better Times overview with beat jump display
* Optimize display of additional song information
* Added video FX overlay in big master video view
* Added battery indicator below clock, if laptop is not connected to power cord

Enjoy!
---
geposted Wed 07 Jun 23 @ 2:28 pm
hi, in browser_window 'songs' there are 4 colors buttons at right position (red, green…), what do they do in track list? thanks
---
geposted Tue 07 Nov 23 @ 8:54 am
You can colorize the song depending on your need. For example mark a song for later play, colorize it. This depends on your workflow.
Use it as you want.
---
geposted Tue 07 Nov 23 @ 10:32 am
thanks a lot, but a song played in automatic hasn't the VirtualDj played symbol on your screen?
---
geposted Wed 08 Nov 23 @ 8:06 am
Should be visible like in any other skin.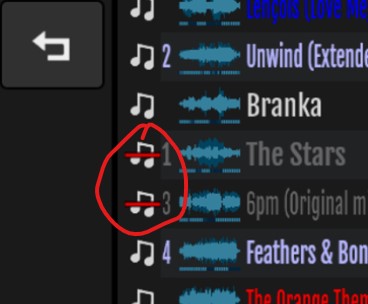 The small red strike through.
Or did I understand you wrong?
---
geposted Wed 08 Nov 23 @ 10:00 am
yes, you have understand correct, thanks
---
geposted Wed 08 Nov 23 @ 11:03 am
hi! what is the part of the script that shows the loop symbol and the beatjump arrow symbols? I would delete symbols.....thanks!
---
geposted 5 days ago @ 10:04 pm
Search for group name="loop" and group name="beatjump" in the code and you'll find the relevant parts.

May I ask, why you want to remove those parts?
---
geposted 3 days ago @ 6:50 pm