Hardware Manuals
Advanced Setup
AUDIO SETUP - DVS
The following image displays the default Audio setup for the Xone 43C, which requires speakers to be connected at the rear panel.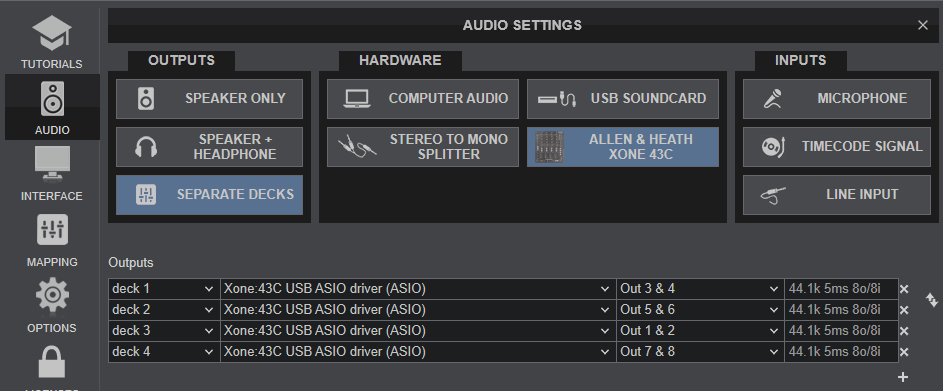 The Xone 43C offers 4 stereo input for the USB Audio interface which can be used to connect up to 4
Timecode
(Vinyl or CD) devices.
For DVS (
Timecode
control), you will need to ...
Connect your Turntable with

Timecode

Vinyl to any of the 4 rear-panel Inputs and set their USB switcher to PH

Connect your CD Player with

Timecode

CD to any of the 4 rear-panel Inputs and set their USB switcher to LN

Make sure the top SOURCE switchers are set to USB

In VirtualDJ Settings->AUDIO tab, press the

Timecode

SIGNAL button for

Timecode

Inputs to be added as per the following image. You can delete any of these if you don't intend to use all 4.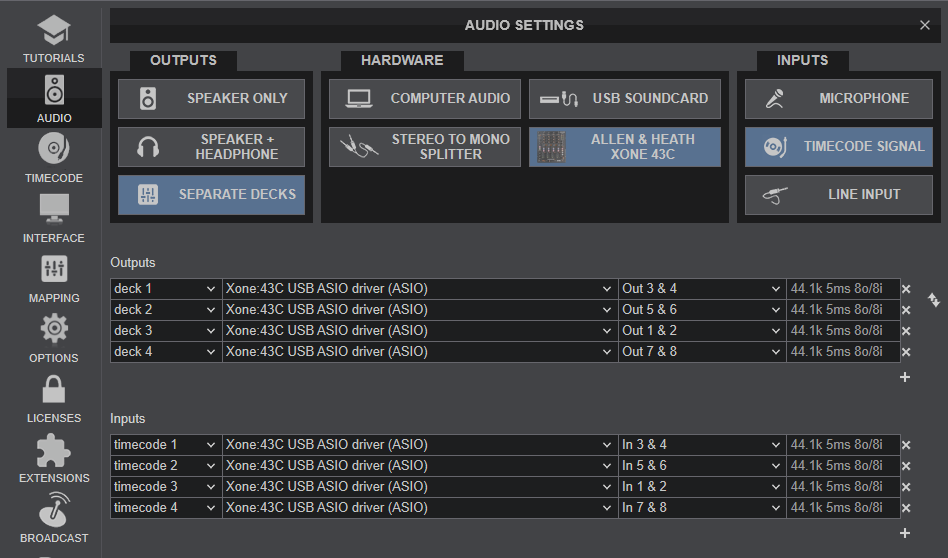 VirtualDJ Audio Setup with 4

Timecode

Inputs
For further setup information about
Timecode
in VirtualDJ, please refer to
VirtualDJ Manual
RECORD & BROADCAST
The Xone 43C is a hardware
Mixer
applying its own mixing, thus recording/broadcasting will not be properly working out of the box.
You will need to ..
Route the audio signal from the rear-panel RECORD 1/4" input to one of the 4 available Inputs using a 1/4" to 2xRCA cable.

Manually add a record line to VirtualDJ Audio Setup, pointing to the relative USB Channel of the Xone 43C Input

The following image shows the VirtualDJ Audio Setup with the default output configuration and a "
record
" input that has been manually added, pointing to Channels 1,2.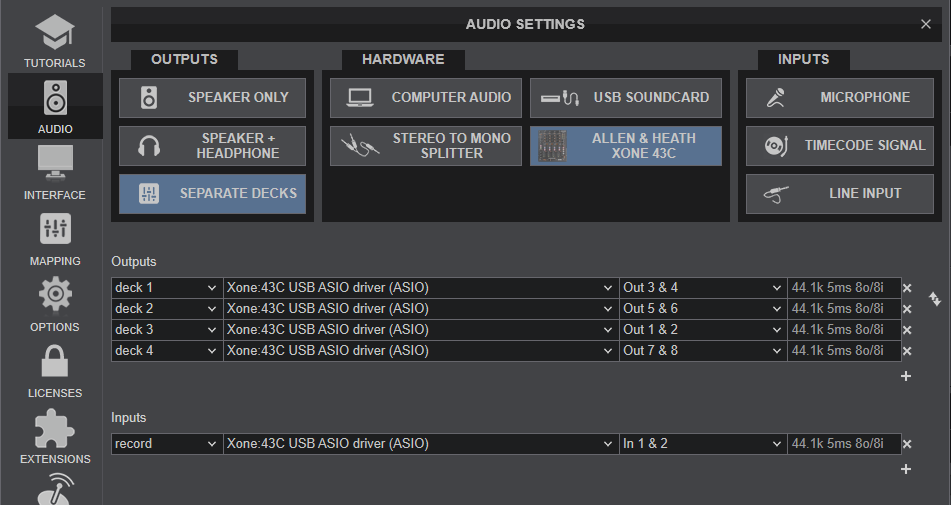 VirtualDJ Audio Setup with Record Inputs
Note, that Video mixing is still possible, despite the fact that the Crossfader of the Xone 43C is not sending MIDI. See our
Mixing Guide - Wiki page
MIDI SETUP
The Xone 43C should be visible in the MAPPING tab of VirtualDJ Settings and the "factory default" available/selected from the Mappings drop-down list.
It's only a few controls (Volume,
Cue
, Filter ON etc.) that can be assigned to a VDJ script action, but it is highly advised not to do so, unless you use a different audio interface and/or
Mixer
and you need to use the Xone 43C only as a MIDI device.
Note
: If you have connected a Xone K2 to the rear-panel XLINK socket, the MIDI functionality of the K2 will be offered through the Xone 43C (thus the Xone 43C Mapping includes all the K2_ keys). For further operations of the Xone K2 connected via XLINK, please refer to the
Xone K2 Manual

---
For further Technical features and specifications, visit
Allen & Heath Xone:43C

Product's Page
---

Hardware Integration Department
2021 - ATOMIX PRODUCTIONS
Reproduction of this manual in full or in part without written permission from Atomix Productions is prohibited.