Hardware Manuals
Controls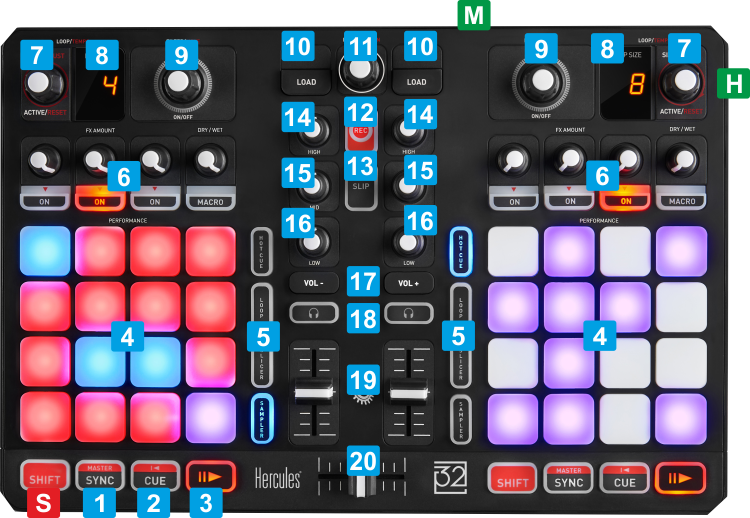 M

Master

OUTPUT
Connect a pair of amplified speakers using standard RCA cables
H

HEADPHONES SOCKET
Connect your Headphones using a 1/4 " cable or adapter
S

SHIFT
Press this button down to access secondary actions as described in the SHIFT ACTION column
KEY
ACTION
SHIFT (SECONDARY) ACTION
1

SYNC
Match BPM and Beat Phase with the opposite deck
Manual beat-tap
2
Cue
Sets current position as Temporary

Cue

point.
Preview track when paused while button is pressed
Jumps and stops to the

Cue

point when playing[
Returns to the beginning of the track
3

PLAY
Play/pause deck
Plays deck when paused. Jumps to

Cue

point and continues to play from there when deck is playing (play-stutter)
4

PADS
The 16 colored Pads offer different functionality depending on the selected Pad mode. See Pads
The 16 colored Pads offer different functionality depending on the selected Pad mode. See Pads
5

PAD MODES
Select 1 of the 4 available modes for the Pads. See Pads
6

EFFECTS
See Effects for Effects operation
7

Loop

ENC
Turn clockwise/anti-clockwise to double/half the size of the

Loop

in beats.
Push to enable/disable the selected

Loop
Turn to adjust the Pitch (Tempo) of the deck. Push to smoothly reset Pitch to zero (original track's tempo)
8

LCD
Displays the size of the selected

Loop

(in beats)
9

FILTER
Turn clockwise/anti-clockwise to apply a High/Low - Pass Filter to the deck.
Push to turn off Filter (zero position).
Turn clockwise/anti-clockwise to move the track forward/backwards by 1 beat or 1/100 of the beat.
Push the rotary to change the step to 1/100 of beat (for accurate track positions) and push again to set step back to 1 beat.
10

LOAD
Load the selected track from the Browser to the left or right deck.
Hold this button down for more than 2 seconds to unload the same deck.
Hold the left SHIFT button down and use the left LOAD button to open/close the Sideview of Browser.
Hold the right SHIFT button down and then use the right LOAD button to cycle through the views of Sideview (Automix,

Sidelist

, Karaoke, Sampler and Clones)
11

BROWSE
Scrolls through folders or tracks, depending on the selected Browser window.
Push to cycle focus through the Browser windows (Folders, Songs and Sideview).

Adjust the Volume of the

Master

Output
When focus is on the Folders Browser window, push to open/close sub-folders.
12

REC
Start/stop recording your mix
13

SLIP
Enable/disable Slip mode (on both decks). When Slip mode is enabled, several operations such as Hotcues and

Loops

act temporary and when released(disabled), the track will resume playing from the position it would have been of this operation was never triggered.
14

EQ HIGH
Adjust the High/Treble Equalizer Band
15

EQ MID
Adjust the Mid/Middle Equalizer Band
16

EQ LOW
Adjust the Low/Bass Equalizer Band
17

VOL-/+
Use these buttons to decrease/increase the volume of the Headphones channel Output
Headphones

Cue

/Mix. Use the left button to send the Decks that have been selected via the PFL buttons to the Headphones Channel. Use the right button to send the

Master

Output to the Headphones Channel
18

PFL
Sends pre-fader audio signal to the Headphones channel (for pre-listening)
19

VOLUME
Adjust Output Volume for Left and Right decks
20

CROSSFADER
Blends audio signals between left and right decks
Pads