Hardware Manuals
EXTERNAL
Mixer

SETUP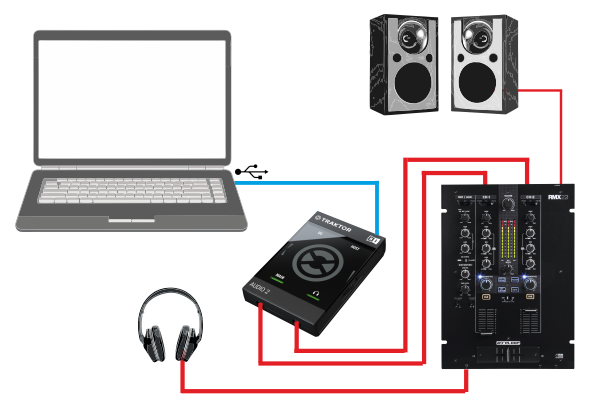 Connect Traktor Audio 2 MKII with your computer using a standard USB cable


Connect your speakers to the

Master

Output of your analog

Mixer




Connect your Headphones to the Headphones Output of your analog

Mixer




Connect the MAIN Output of the Traktor Audio 2 MKII to an Input Channel of the analog

Mixer

, 1/8" male to 2xRCA male cables


Connect the PHONES Output of the Traktor Audio 2 MKII to another Input Channel of the analog

Mixer

, 1/8" male to 2xRCA male cables


Click on the TRAKTOR AUDIO 2 MKII special button in the Audio tab of VirtualDJ and then select the EXTERNAL

Mixer

button. You should then get the following Audio configuration. Click to APPLY





The Left VirtualDJ Deck will be routed to the Channel of your
Mixer
you have connected the MAIN Output of the Traktor Audio 2 MKII and the Right VirtualDJ Deck will be routed to the Channel of your
Mixer
you have connected the PHONES Output of the Traktor Audio 2 MKII.
However, you will need to make some adjustments in order the Right Deck to be routed properly.
Make sure the VirtualDJ

Mixer

is on its default values (Crossfader in the middle, Volume faders at their maximum position and Gain and Equalizer centered

Load a track to each Deck and start playing both.

Use the right-side PHONES LEVEL rotary of the Audio 2 MKII to adjust the Output volume. Usually, this has to be set to the maximum available.

Use the left-side MAIN/MIX rotary of the Audio 2 MKII so that it sends only the Right Deck to the PHONES Output Channel.
In order to be sure that you have properly adjusted the audio routing, when both Decks are playing you should only get the Right VirtualDJ Deck on your right

Mixer

Channel Output. If not, adjust the MAIN/MIX rotary accordingly.