Hardware Manuals
Setup
STEP 1 : CONNECTIONS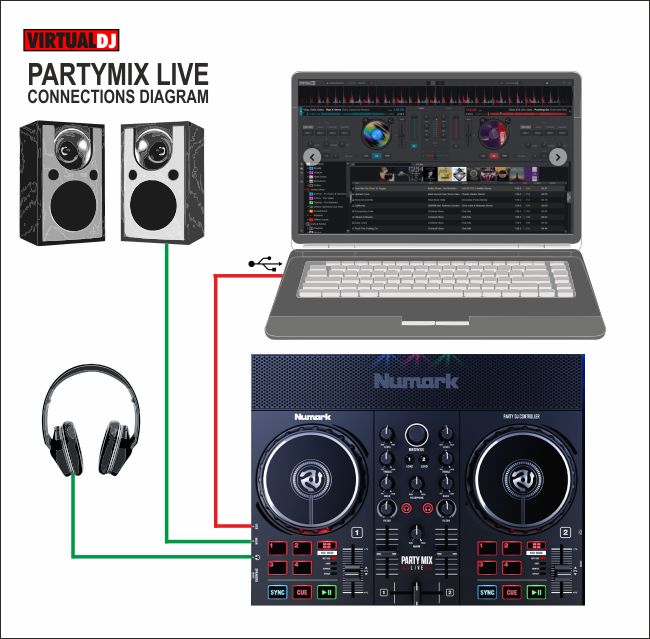 If you wish to use the built-in speaker of the Party Mix Live, set the left-side switcher to the On position.
If you wish to use external speakers, plug the speakers to the
MAIN
socket at the left-side and set the
SPEAKER
switcher to the Off position.
After you make the connections, use the right-side switcher
ON/OFF
and set it to On.
STEP 2 : DRIVERS & FIRMWARE
Drivers :
No driver
is required to be installed. The Party Mix Live is a USB Class compliant device and your Operating system will automatically install the necessary drivers once the unit is connected to your computer via a USB port.
For
Windows
an
optional ASIO driver
can be installed from
https://virtualdj.com/documents/Drivers/Install%20Numark%20Party%20Mix%20Live%201.0.0.exe
STEP 3 : VirtualDJ 8 Setup
Download and install VirtualDJ from https://www.virtualdj.com/download/index.html (in case you have not done already)

Once VirtualDJ is launched, a Connect window will appear to enter your virtualdj.com account credentials.

A Pro Infinity, a Plus Controller or a Pro Subscription License is required to fully use the Numark Party Mix Live. Without any of the above Licenses, the controller will operate for 10 minutes each time you restart VirtualDJ.
https://www.virtualdj.com/buy/index.html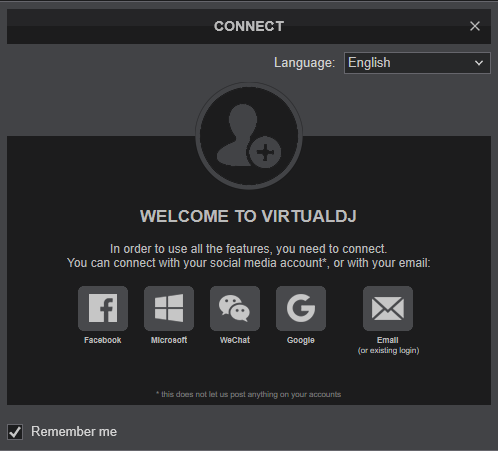 A detection window will appear when the unit is first connected with VirtualDJ, verifying proper connection.

Click on the "Party Mix Live" if your speakers are connected to the Main Output at the left side of the Party Mix Live or you wish to use the built-in speaker of the device.
You can still make changes in the Audio setup from VirtualDJ Settings->AUDIO tab.



Press OK.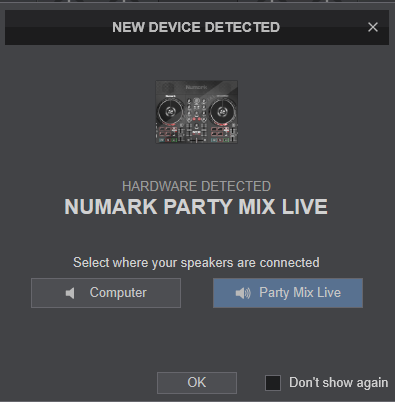 The unit is now
ready
to operate.
Controls