Hardware Manuals
KEY
Cue
Hold
SHIFT
and then press the
SAMPLER
mode button to set the PADs to
Key
Cue
mode.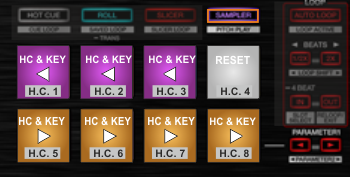 Key

Cue

mode – Pioneer DDJ-SR2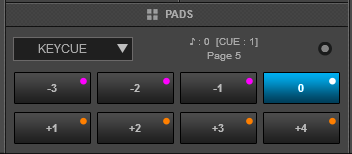 Key

Cue

pad page – VirtualDJ GUI
Each of the 8 Pads
triggers
the selected
Hotcue point
(or the Temporary
Cue
if none selected or not available)
at a selected Key semitone
(from -7 to +7).
Eight different pages/banks are offered with various semitone values to use and a 0 value in order to reset the key to its original value is always offered in all pages.
Each time a Pad is pressed, the track will
jump
to the selected Hotcue point and will also
alter the Key
of the track to the value designated by its assigned value.
Hold
SHIFT
and then press a Pad in order to select a different Hotcue for the Key pads to trigger.
Use the
PARAMETER
buttons to adjust the Key of the track without triggering the Hotcue.
Hold
SHIFT
and then use the
PARAMETER
buttons to select a different page/bank with different key semitone values.
Read further details about Pads in the
VirtualDJ 8 manual
Trans