Hardware Manuals
Advanced Setup
The DJM-900NXS2 offers 2 built-in USB Audio interfaces (sound cards) by connecting the device with a USB port of a computer using the USB A or USB B sockets and each one of them offers
12 Outputs
and
10 Inputs
. The Inputs and Outputs Channels routing is available from the Pioneer DJM-900NXS2 Setting Utility.
You can open the Utility window with the following ways :
For Windows computer:
:
Click on the ASIO button from VirtualDJ AUDIO tab of VirtualDJ Settings,
or navigate using [Windows START] menu [Pioneer] [DJM-900NXS2 Settings Utility]
For Mac OSX computer:
Navigate to [MACINTOSH HD] icon [Applications] [Pioneer] [DJM-900NXS2 Settings Utility]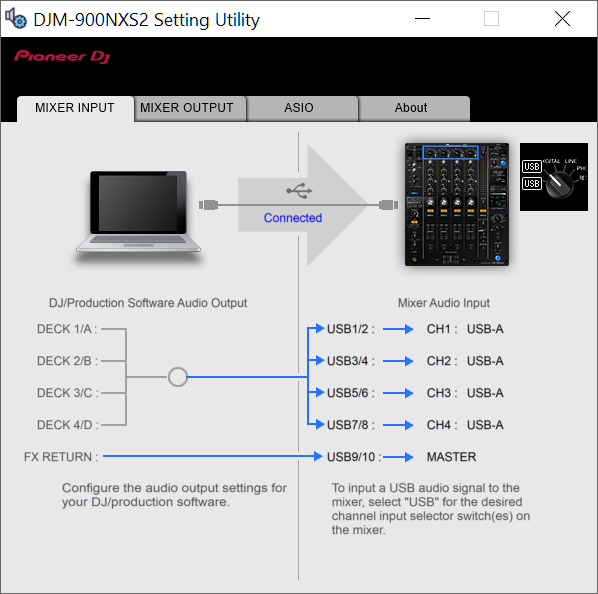 Pioneer DJM-900NXS2 Utilities - Inputs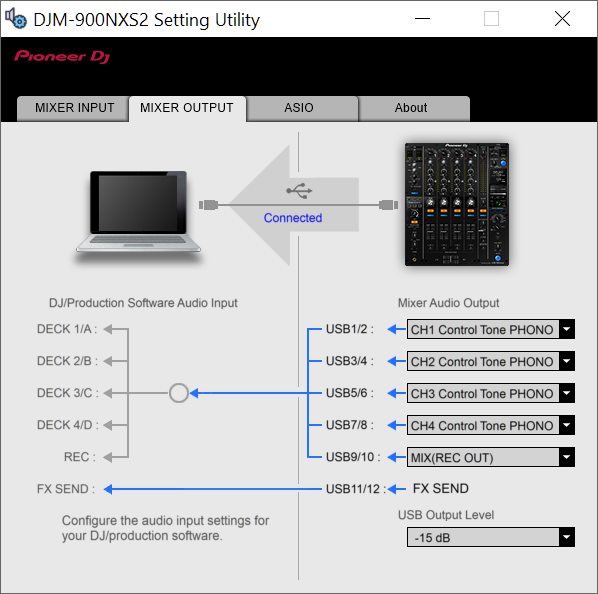 Pioneer DJM-900NXS2 Utilities - Outputs
Hardware Effects applied from the DJM-900NXS2 are always Post-fader. For VirtualDJ Effects (applied from skin or other MIDI device), you will need to have the following settings.
fxprocessing setting to Post-Fader (from VirtualDJ Settings->OPTIONS tab





In VirtualDJ AUDIO tab, deckfxreturn and deckfxsend are already assigned to the same Channels as in Pioneer Settings Utility.





Recording your mix with a
Mixer
applying it's own audio mixing, Equalizer and Effects, requires a dedicated Recording Input. By default VirtualDJ is using Inputs 9,10 and the special
record
input is included in the pre-defined Audio setup of VirtualDJ
Just make sure your Audio setup and Pioneer Settings Utility have the same Channels.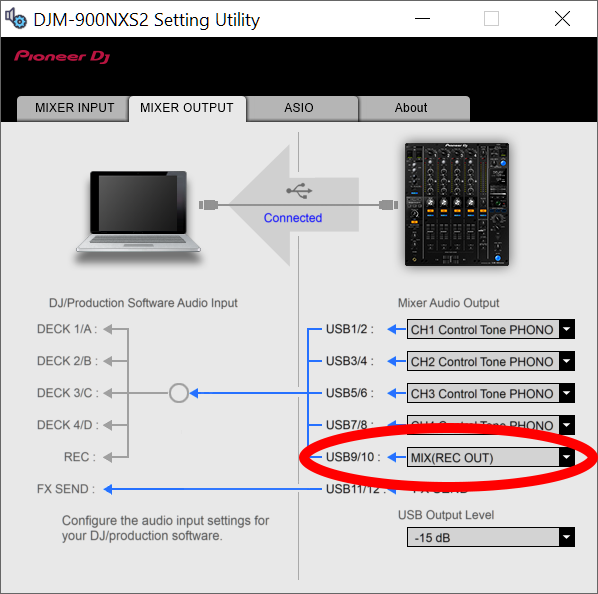 By default when you are recording with a dedicated Record input, VirtualDJ has no control over the sound levels of the recordings. The Pioneer Settings Utility offers some options over the sound level that it sends back to VirtualDJ for recording. The default value is
-15db
which provides enough
headroom
for your recordings so that they won't clip. You can change that value from Pioneer Setting Utility according to your needs.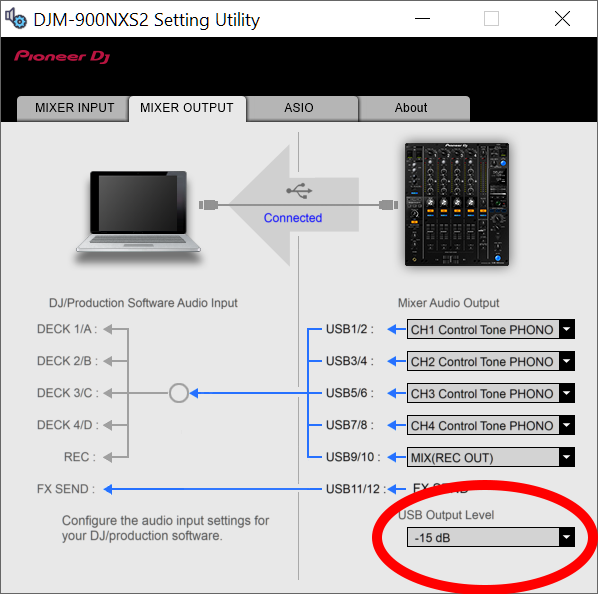 By default up to 4
Timecode
inputs can offer DVS control to 4 VirtualDJ Decks, using CH Inputs 1 to 4. Read further information for
Timecode
Inputs at
VirtualDJ Manual
Depending on the DVS/Timecode device type (Turntable-Vinyl or CD), connect your

Timecode

device to the LINE or PHONO inputs at the rear panel of the DJM-900NXS2






Pioneer DJM-900NXS2 - Rear panel -

Timecode

Inputs




Open VirtualDJ Settings and select the AUDIO tab.


Click on the

Timecode

SIGNAL button at the top-right and VirtualDJ will add the necessary inputs in sound setup. You can remove the inputs that are not connected (e.g leave only 2 of them if you are using just 2

Timecode

inputs)


Click APPLY.

Make sure you use the same Input channels in both VirtualDJ and Pioneer Settings Utilities.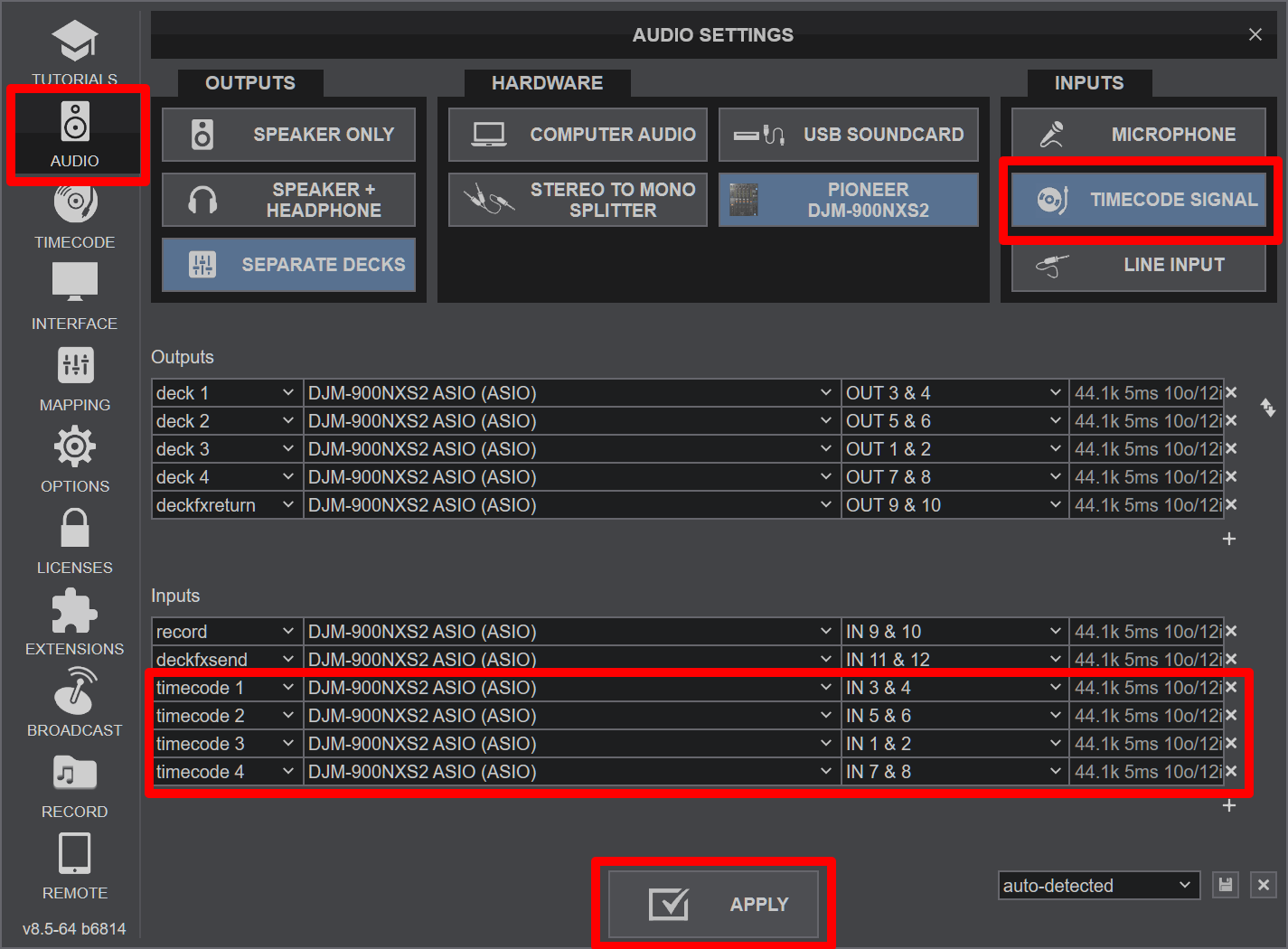 VirtualDJ Audio Setup with 4

Timecode

inputs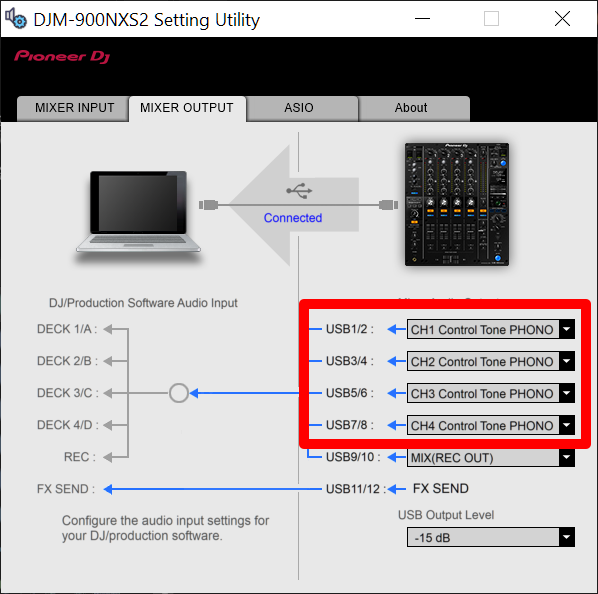 Pioneer DJM-900NXS2 Utilities - 4 Phono Inputs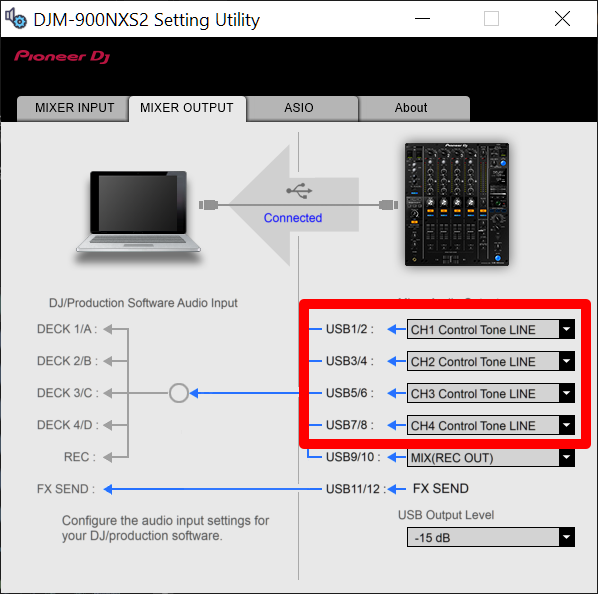 Pioneer DJM-900NXS2 Utilities - 4 Line Inputs
Pioneer DJM900NXS2 supports Pioneer's "
HID via LINK
" protocol when used together with compatible devices (CDJ-2000NXS2 and CDJ-3000).
"HID via LINK" offers the ability to use only
one
USB connection (that of the
Mixer
) in order to control
all
supported devices connected on Pioneer's "LINK" network.
For more information on how to use "HID via LINK" protocol with DJM-900NXS2 and supported devices please read
HID via LINK Setup Manual
---
For further Technical features and specifications, visit
Pioneer DJM-900NXS2

Product's Page
---

Hardware Integration Department
2021 - ATOMIX PRODUCTIONS
Reproduction of this manual in full or in part without written permission from Atomix Productions is prohibited.