Forum: VirtualDJ Plugins


Questions about plugins development, talks with other developers etc
Topic: TellyVisuals and TellyMedia - Page: 3

I might do photobooth with sync to the screen in a future, and it will send the pictures through twitter like T.S.I.
---
geposted Sun 25 Sep 16 @ 5:50 pm

I'd say out of 50 (Twitter/Instagram combined) messages only about 10/15 will have photos unless its a birthday party or kids event.
---
geposted Sun 25 Sep 16 @ 8:10 pm

I agree that there should be better options for display. I was holding off on that for NTV but that is taking me a long time so better display may happen sooner than later.

I have put up TV 2.53+ for testing but don't feel like I should post that link here. I will have it up official soon though. Still working on Twitter support which I needed to side track a bit.

TV 2.53+ has a number of subtle improvements with the Chat Inbox. Image preview is now available, send and delete messages from VDJ script has been re-activated, some fixes, improved support for Twilio, mouse wheel support, etc.

Maybe you need a larger text display etc. or options for it if you need to read from a distance?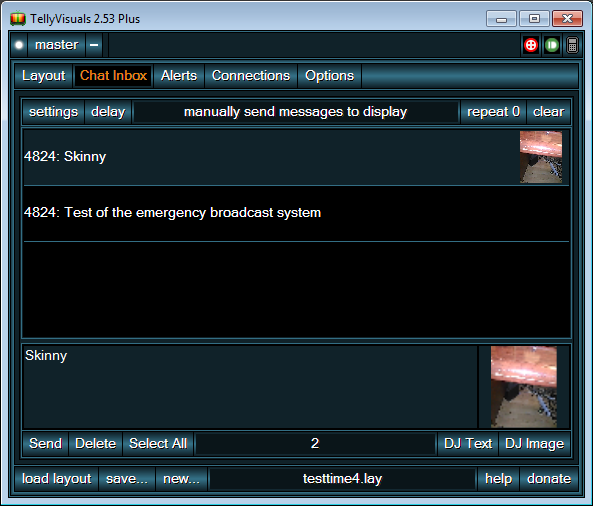 ---
geposted Tue 27 Sep 16 @ 4:11 pm

Nice!! Will download shortly and test out tonight.

Thanks Don.
---
geposted Tue 27 Sep 16 @ 4:26 pm

A convenient way to test is with Twilio for SMS and MMS (US only) for images. You sign up for a trial account which is free. They give you a phone number in your own area code. You don't need a modem or phone but you do need to have the internet available to you. I am not sure how long a trial account last, and what limits it might have. I have had mine for months. You can also use iWall and Pushbullet to test images.

I will send you the link for TV 2.53+ Huey. I have it posted in the facebook group but nowhere else.
---
geposted Tue 27 Sep 16 @ 4:35 pm

I put up TellyVisuals 2.55 Plus

o - a couple fixes for Twilio. Time stamping should be accurate now.
o - adds a small image preview for messages
o - fixes for Chat Inbox
o - in chat inbox the 'settings' button is now named 'mode' and moved it to the right of the 'delay' button
o - automatically adds the year to song alert if available
o - adds flip horizontal and vertical for panel images
o - some cosmetic changes

http://www.tellyvisuals.com
---
geposted Thu 29 Sep 16 @ 6:27 pm

This newest version doesn't have the Twitter/Instagram support, correct??

I installed the one you sent but didn't see the icons, maybe I missed something or thats not in yet?
---
geposted Thu 29 Sep 16 @ 7:39 pm

That is correct Huey. I have not finished it yet as I had to do a number of other things but now I have the time to finish the work on Twitter and Instagram will follow.
---
geposted Thu 29 Sep 16 @ 7:49 pm

Awesome and Thanks!!
---
geposted Thu 29 Sep 16 @ 8:07 pm

Huey, I sent you an email with a link to TV 2.59+ that enables Twitter.

If any one else wants it, then you will need to email me and pass inspection :)

donmoir@comcast.net
---
geposted Tue 04 Oct 16 @ 6:36 am

This would be fun to test, you know my mail Don :-)

/ Fredrik
---
geposted Tue 04 Oct 16 @ 6:29 pm

Question Don, when using a window and I have TV using VDJ in that window, isn't TV supposed to grab the video sample as well??

As of right now, when I hit a video sample it plays over the entire screen where as I could of swore before it would only play in the window that TV was pulling VDJ into??

I'm gonna check on some recorded video sets I've made in the past because I'm almost positive it did. Maybe they changed something or something got changed?
---
geposted Wed 05 Oct 16 @ 8:58 am

There is an internal flag called VDJFLAG_VIDEO_VISUALISATION that does a couple things.

When a plugin sets this at run time.
o - it says to VDJ that the sampler video should play on top
o - the script query 'is_video' returns true

When not set
o - sampler does not play on top
o - 'is_video' returns false.

I have set it on some builds or not. Someone will complain no matter how I set it. I need to add an option for it but that is kind of an obscure thing to describe. TV has the 'display on top' flag you can set but that does not control the sampler. These kind of flags can only be set at load time and not at any time. I will go ahead and add a 'sampler on top' setting in TV which will be yes / no for you though.
---
geposted Wed 05 Oct 16 @ 12:05 pm

Awesome!! Thanks Don, id rather have it only show in the window i have told TV to pull VDJ into because of the way i layout my screen.

Most appreciated good sir (thumbs up)
---
geposted Wed 05 Oct 16 @ 12:50 pm

Sent you email with link. Has Twitter support and adds flags to control sampler on top behavior.

You can enter multiple hashtags by separating with space like: dog cat ... The # sign is optional and I don't believe Twitter cares about it anymore.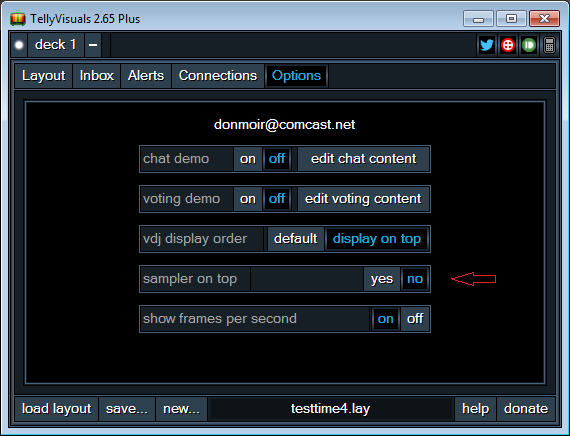 ---
geposted Wed 05 Oct 16 @ 2:03 pm

BADASS!! Owe you yet another 6 pack, lol!!
---
geposted Wed 05 Oct 16 @ 5:15 pm

I have put up TellyVisuals 2.73 Plus. TellyVisuals is getting some new updates lately. Twilio and Twitter were adding a few versions ago. TV 2.73 adds image perspective rotation and scaling with speed control.

In TV any panel can contain an image. The image can be one of your choosing or the VDJ video. You can have as many panels as you want. The latest features require you to be at the 40 dollar donation level or above. Rotation can be vertical or horizontal with various speeds and scale.

A sample showing an image rotated horizontally on the left and same image rotating vertically on the right at the same time.

http://www.tellyvisuals.com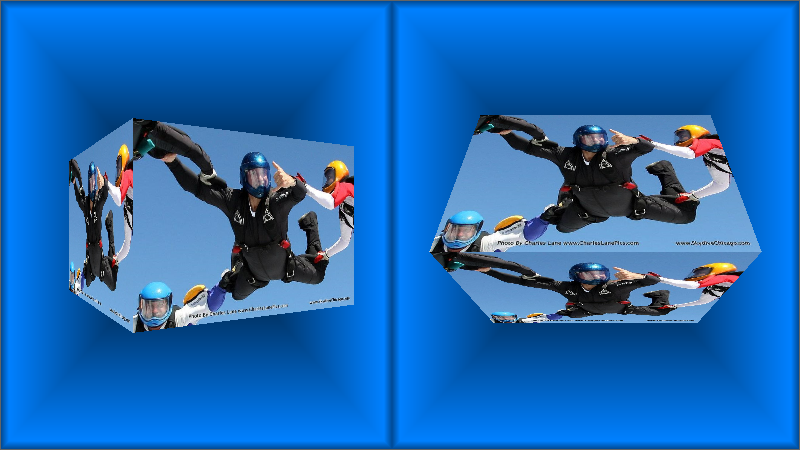 Will be getting Instagram in as soon as I can.

I will probably allow the emoticons to rotate and do some wiz bang things eventually. If I could afford it I would have some company redo the over 800 emoticons so that they are animated. Animation is already built into TV and just need to have the images. Anywhere an image can exist in TV, it can be an animated image and I don't mean just GIFs.
---
geposted Sat 22 Oct 16 @ 5:42 pm

Instagram has been added to TV Prime... Problem is you have to go thru approval for instagram now and that may take a couple weeks. I don't know.

The name TV Prime is to distinguish that it is at another level from TV Plus. It has support for Twitter, Twilio, and soon to be Instagram when approved. In addition it has rotation of any panel image or VDJ video.

TV Plus has support for Pushbullet, IMU, and iWall.

TV Prime adds Twilio, Twitter, and Instagram when approval goes thru.



The Instagram icon will be gray in latest version TV 2.78 Prime until I can get approval.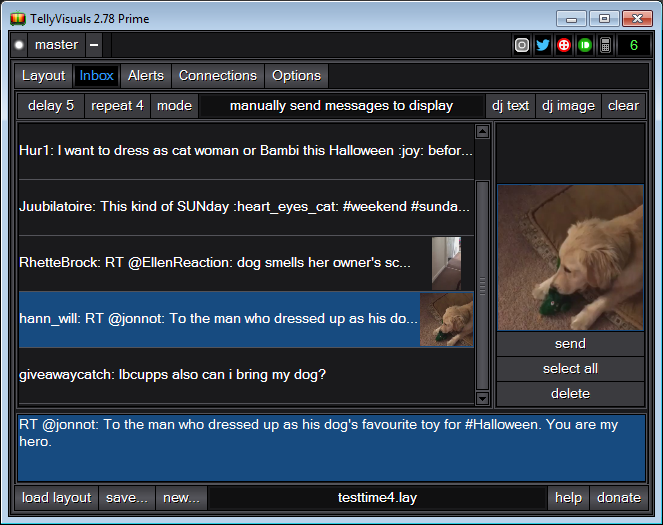 ---
geposted Sun 30 Oct 16 @ 4:29 pm

The current focus of attention with TellyVisuals Prime, is DJ text alerts and overlays. DJ text alerts are where you can call up text easily for display on the screen at your command. Overlays are instant on easy to call up displays of just about anything that you design and call up or dismiss at any time. Overlays overlay the current layout. They can occupy any part of the screen scrolling in and out or fading in or out. This image shows a DJ text alert, a song alert, and an overlay all running at same time. The overlay is the lady scrolling by.



The next image shows the overlay still in place, the song alert has ended, and the DJ text alert floating off the screen.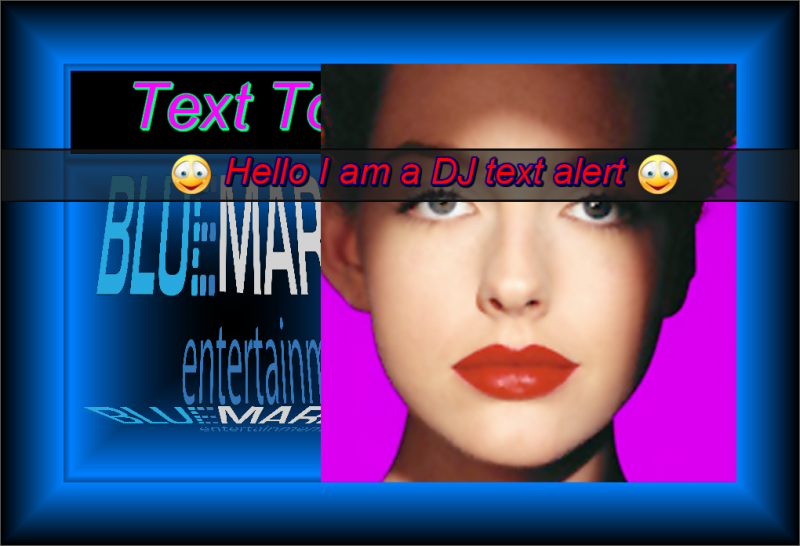 These things are not available yet but it is what I am working on.
---
geposted Fri 04 Nov 16 @ 12:05 pm

As always Don, very nice!!
---
geposted Fri 04 Nov 16 @ 3:18 pm