Hardware Manuals
EQ Mode
The Equalizer (Treble, Mid & Bass) section of the VMS2 can work in two different modes, Pre EQ and Post EQ.
How to
:
To toggle between the 2 EQ modes, press and hold the FORWARD SEARCH button (25) on the right deck and then power "ON" the unit. Release the button. Your computer may reinstall the VMS2 as a new device, please allow 10-20 seconds for the change to take place.
You can verify the change from the ASIO Settings Utility (Windows only)
Pre EQ mode (default)
In Pre EQ the USB audio signal is affected by the VMS2 EQ. Pre EQ is the default EQ. In

Pre EQ mode the ASIO Driver will list the VMS2 device number, the first number in the sequence will be a "0"

Device number in Pre EQ mode
Post EQ mode
Post EQ is for users who prefer using the EQ from VirtualDJ instead of the Hardware one (e.g. to get the parametric EQ of VirtualDJ 8).
In Post EQ mode the ASIO Driver will list the VMS2 device number, the first number in the sequence will be a "1"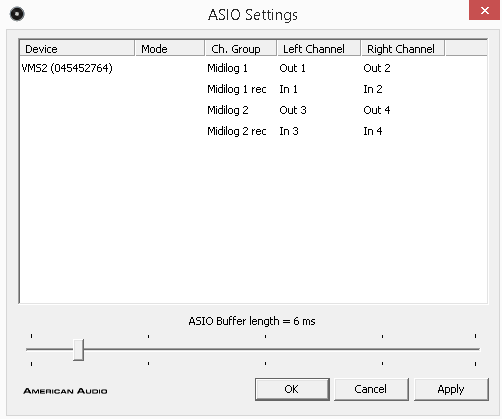 Device number in Post EQ mode
If the Post EQ mode is selected, you will also need to modify the
ONINIT key
of the Mapping files (or at least the one that you need to use – Default or Browser mode).
How to:
Launch VirtualDJ 8 and head to the CONTROLLERS tab of Config. Select the American Audio VMS2 from the left devices list and select the mapping file you wish to use (and modify). Locate the ONINIT key from the middle Key list (you can also sort by Key for easier search).
Click on the ONINIT key to get the pre-assigned action in the Action field.
Edit the
fake_eq on
action to
fake_eq off
Once the change is done, a modified (custom) mapping will be auto-created which can be renamed as well from the top-right field.
Re-launch VirtualDJ 8 or choose a different mapping and back the one you edited again, in order the assigned action of the ONINIT key to be applied.
To
verify
that the "fake" EQ is off and the VMS2 is now controlling the VirtualDJ Internal EQ (for both Windows and Mac), the EQ knobs should not now kill the sound if all 3 EQ Band knobs are at the far left position and the EqualizerMode setting is set to Default from the OPTIONS.
Recording