Hardware Manuals
Pads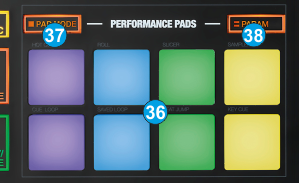 Pads (36) offer 16 different modes
How to select a mode:
Hold the
PAD MODE
(37) button down and then press one of the 8 Pads to select one of the
8 primary Pad modes
. When a primary mode is selected, press the same Pad to select its
secondary mode
.
The available modes are displayed on the Touch screen while the PAD MODE button is held.
Release the PAD MODE button after your selection.
Each time a mode is selected, a
Page
will be selected and displayed on the
Pads
section of both the default VirtualDJ skin and Touch screen GUI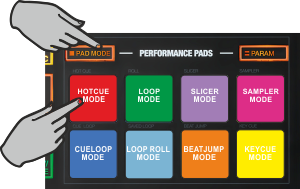 Primary Pad modes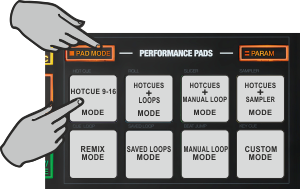 Secondary Pad modes
How to adjust the Parameters of the selected Pad mode:
Hold
PARAM
button down and then use
Pads 1 to 4
to adjust the Parameters of the selected mode. The LEDs of the 4 top Pads will be lit if the Parameter is available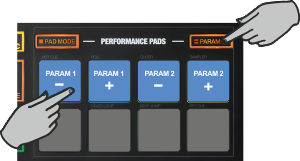 Primary Pad modes
Secondary Pad modes
(with 2nd Pad press)
Hotcues