User Manual
Seriennummern
VirtualDJ is a single core software version without serial numbers*. Licenses can be added to access additional features of the software and are associated with your account. Use this tab of Settings to view, add and manage your Licenses and your Content Unlimited subscriptions.

Click on the Connect button to open the Connection window.

The same Connection window will be displayed on first launch, and it will remember your Login and password across sessions (if not logged in from more than 2 computers in the meantime). You can choose to login using your Facebook, Microsoft ID, WeChat, Google ID or VirtualDJ ID (account needs to be created),

If you decide not to login, some features will be limited and online features of the software will not be available.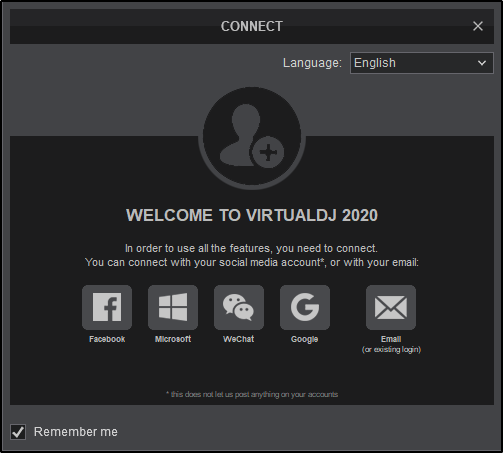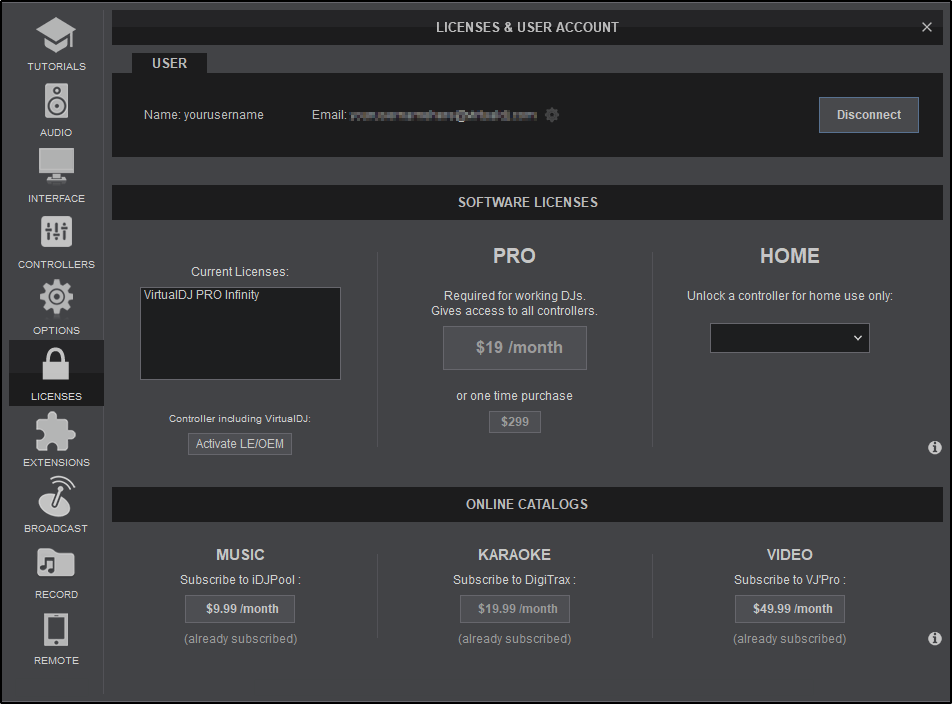 Once you login, all your current Licenses and active Subscriptions will be enabled and displayed. You can also choose to add additional licenses or subscriptions:


Pro Infinity License - provides full access to all the features of the software (one time purchase)


Pro Subscriber License - provides full access to all the features of the software (monthly subscription)


Controller PLUS License - provides you the ability to use a single external analogue DJ

Mixer

and/or a MIDI/HID controller (one time purchase)


Online Catalogs - provides unlimited access to our Audio, Video and/or Karaoke catalogs offered by our partnered providers (monthly subscription)
Detailed purchase information can be found here:
http://www.virtualdj.com/buy/index.html
*The Enter Keycode field is only to enter a Keycode provided with an OEM (Limited Edition) version (bundled with several MIDI/HID controllers) without having to create an account. The Keycode can be registered to an account to use the same login process as any other License or Subscription.
Erweiterungen