Q: What are virtual folders and how do I create them?
---

A virtual folder is a special folder that exists only in the VirtualDJ database. They allow you to organize your music library without moving the actual songs on your hard disk or creating duplicate files similar to playlists.

A single song can be added to multiple Virtual Folders (example: Dance and Party), but there will only be one actual file on your hard disk, saving disk space.


To create a virtual folder:



Click on the Virtual Folder icon at the top of the Side Toolbar in the VirtualDJ browser.

Enter a name for the Virtual Folder when prompted (example: Party)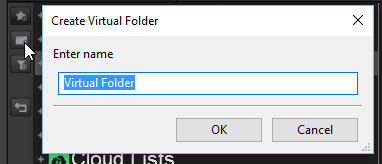 Find the songs that you want to add to it in your music library (By searching or navigating to the folder(s) where they are located), then drag and drop them into the virtual folder.


To remove a song from a Virtual Folder, right-click on it and select the option Remove from this VirtualFolder. This will remove it from the Virtual Folder only. It will not delete the actual song from your hard disk and you will still be able to find the song when searching or if you browse to the actual folder on your hard disk where it is located.


---

For more information on Virtual Folders please see:
MANUAL Virtual Folders


---
FAQ
Knowledge Database
Wiki HOME