User Manual
Side Toolbar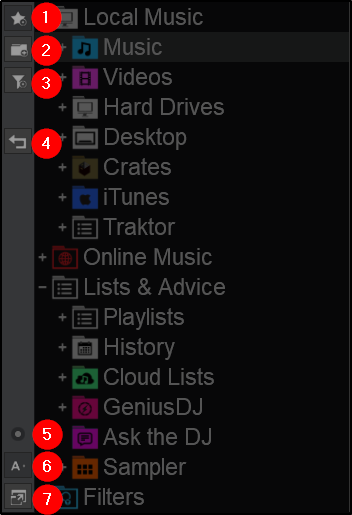 The Side Toolbar on the left vertical side of the Browser offers global folder operations and Browser features to quickly make changes and add functionality without interrupting the DJ's work flow.


FAVORITE FOLDER. Marks a specific folder as a Favorite (creates shortcut) and adds it to the Folder List for quick access (monitored)


VIRTUAL FOLDER. Creates a Virtual Folder (unmonitored) which provides the ability to add files into a folder without changing their physical location on the hard drive.


FILTER FOLDER. Creates a Filter Folder (monitored) which will organize (filter) files based on predefined criteria.


GOTO LAST FOLDER. Returns to the last used folder.


BROWSER OPTIONS. Displays a menu with the following options:


Show Only

Shows or hides Music, Video or Karaoke files.




Display Options

Display List as

Choose between the List View (default) and Grid View with large icons (for Touchscreens)




Font Size

Choose between Small, Medium, and Big fonts.




Padding

Provides the ability to increase/decrease the spacing (padding) between browser lines. Choose from None, Small, Medium or Big.




Reset Root Folders

Displays any folders that have been hidden.




Database

Remove missing files from Search DB

Clean the Search Database from files that no longer exist.




Creates a zip file backup of the database, folders,

History

, mappers, pads, playlists and settings in the folder Documents/VirtualDJ/Backup on your computer.




Restores database, folders,

History

, mappers, pads, playlists and/or settings from backups that have been created.




Export browser view

Exports what is currently displayed in the browser (including fields) to a .csv file (that can be opened as a spreadsheet in softwares that support it) or a .html file (for web use).




FONT RESIZER. Increase or decrease the size of the Browser font with a single button*.

*a dual button configuration for individual increase and decrease sizing can be changed in Options by changing browserFontSizeButtons to Yes


BROWSER ZOOM. Increases the size of the Browser and reduces the size of the decks.

To create a backup of your VirtualDJ Database click Browser Options Database Create Database Backup

VirtualDJ will automatically create a backup zip file of your Database,

History

, Playlists, Filters, Mappers, Events, Pads, and Virtual Folders. Once the backup is complete, Documents/VirtualDJ/Backup will open on your desktop showing the file location where the backup has been saved.

A database backup can also be created automatically over a certain period of days. To set this up go to
Options
automaticDatabaseBackupPeriod
and input a value (number of days) into the field.
The location of the backup can also be pre-set by going to
Options
databaseBackupLocation
and inputing the folder location.
To restore a backup of your VirtualDJ Database click Browser Options Database Restore Database Backup

You will first need to select the backup file that you wish to use. Click Select File to open the location of your backup file. Select your preferred backup file from your desktop.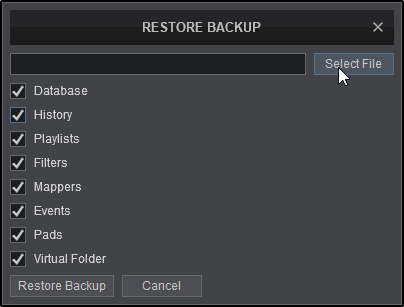 Once your file is selected, it will appear in the text box. Select what you'd like to restore from the list menu. All items are selected by default, click on the checkboxes of items you wish to deselect to remove the checkmark. Once you are satisfied with your selections click Restore Backup.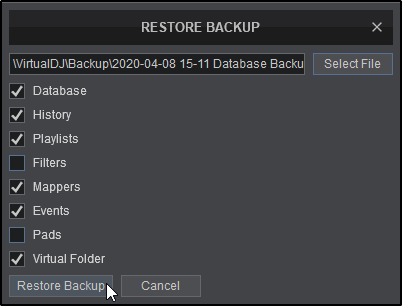 The restoration process will take a few moments. Once completed VirtualDJ will provide a summary of what has been restored. Select OK to continue.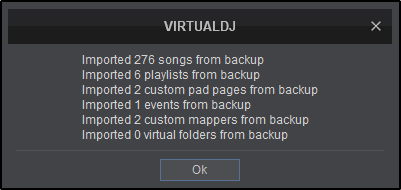 Once completed, the file location on your computer will open with an additional Pre-Restore file. This file can be used to revert to the previous database by using the Restore process again.

Folder List