User Manual
Analyze Tracks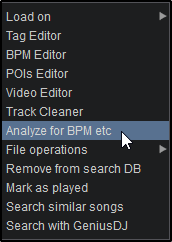 Once a folder is selected from the
Folder List
, the tracks will appear in the
File list
providing the Artist, Title and Remix fields (if available). If the tracks have never been played with VirtualDJ before, the fields BPM, Length and Key will be empty.
In order to see this information, you will need to analyze (scan) your tracks. It is strongly advised to have all your tracks analyzed.
ANALYZE SPECIFIC FILES
Right-Click on any of your files and choose Analyze for BPM from the offered menu.

Multiple files can be selected (using mouse click +SHIFT or CTRL), and Batch Analyze for BPM etc option from the same right-click menu.

ANALYZE A SPECIFIC FOLDER
Right-click to any of your folders from the Folder List and choose Batch Analyze for BPM etc from the available menu.

ANALYZE ENTIRE LIBRARY
If your media library lies in a specific drive or folder simply right-click on that folder and choose Batch Analyze for BPM etc. VirtualDJ will then analyze all the files contained in that folder including all the sub-folders.

If your media library is stored in various drives or folders you can:
Type an asterisk (*) in the Search field. This will display all the tracks of the Search Database in the File list. Select all files (using CTRL+A), and right-click on any of the selected files and choose Batch Analyze for BPM etc.

OR


Create a Filter folder with criteria isscanned=0 (see Filter folders) and gather all the tracks that need to be scanned. Select any of them and Batch analyze for BPM using one of the previously described methods. The advantage of following this method is that you can choose small blocks of files to analyze each time (in case your media library is large).

Smart Folders